amazon Steelseries Apex 100 reviews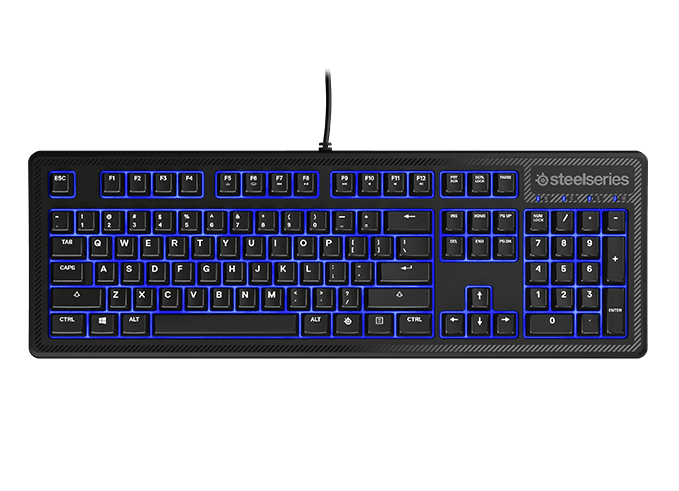 Soft typing, long time being attacked by dirt makes the button difficult to press, and most importantly, you can go anywhere, buy it anywhere, it is these advantages that have made this Japanese brand very popular and worse… is copied with incomparable quality.
Now, when the mechanical keyboard is on the throne, everyone wants to own an expensive toy compared to the general level of the computer peripherals market in the country. Everyone likes big names like Razer, SteelSeries, Ducky, Leopold, and Corsair. On the gaming gear market groups, we see a lot of good keyboards that click and crack, but it comes with a price of up to several hundred dollars. There is still a large market for cheap gaming keyboards that don't need a mechanical switch, but instead a classic rubber dome system that is still capable of meeting the most basic needs.
The Steelseries Apex 100 is one such product. It costs $35. It has LED backlighting that illuminates the button system. It does not have redundant features such as 16 million-color LEDs only available on expensive keyboards, and most importantly, it has a solid, durable construction that not only satisfies gamers with a low budget seasoned but is also suitable for gaming rooms that need mid-range gaming gear that can serve the gaming community.
The first advantage of Apex 100 compared to other rubber dome keyboards on the market is that it is very beautiful! I will try not to show too much about the appearance of this entry-level keyboard from SteelSeries but instead will borrow images to describe how beautiful and solid this keyboard model is.
Having the same design and appearance as the Apex M500, a previous SteelSeries product, but using Cherry's mechanical switch, the Apex 100 goes in a simpler direction when creating a basic keyboard with short key travel, suitable for gamers who play MOBA or games in general without requiring the cumbersome features of expensive gaming keyboards.
SteelSeries advertises right on the product's box, that Apex 100's rubber dome switch has a lifespan of 20 million keystrokes. This takes more time to verify, but the first minutes of using this keyboard feel extremely smooth and comfortable, just like the old days when using a brand new rubber keyboard, the switch is still comfortable and smooth. The typing sound is also extremely quiet, suitable for gamers who like to plow at night but do not want to wake others up like heavy and noisy mechanical keys. Not to mention, the feeling of using it at night is also much "higher" because of the backlit support.
However, the weakness of Apex 100 is the ghosting error. Testing with Microsoft's NKRO test tool, the key is easy to miss, especially when you press many buttons at the same time in different rows. This is relatively contrary to the advertisement that it is capable of recognizing 24 keys at the same time with a 1ms delay of SteelSeries. Latency is still good but the key response is not as expected.
where can you get a Steelseries Apex 100 online
SteelSeries Apex 100 Gaming Keyboard – Tactile & Silent – Blue LED Backlit – Splash Resistant – Media Controls: Buy it now
SteelSeries Apex 100, Gaming Keyboard, Blue Backlit, Fully Customisable, (PC / Mac) – US Layout: Buy it now
---
Pamer
steelseries apex 100 vs 3 is the good 7 price mechanical bàn phím specs color change cleaning customization compatible with ps4 razer cynosa lite clavier driver disassembly release date does work on engine fiyat review keycaps for gaming keyboard how to software manual user guide illuminated wired turn off lights hot swappable instrukcja jak wyłączyć podświetlenie klawiatura keys not working klavye remove opinie xbox one oyuncu klavyesi ps5 pro reddit reset recenzja 5 switches sound test sterowniki teclado gamer usb zmiana koloru can you do a of your zmienić kolor klawiatury
[collapse]