amazon Viewsonic VX3418-2KPC reviews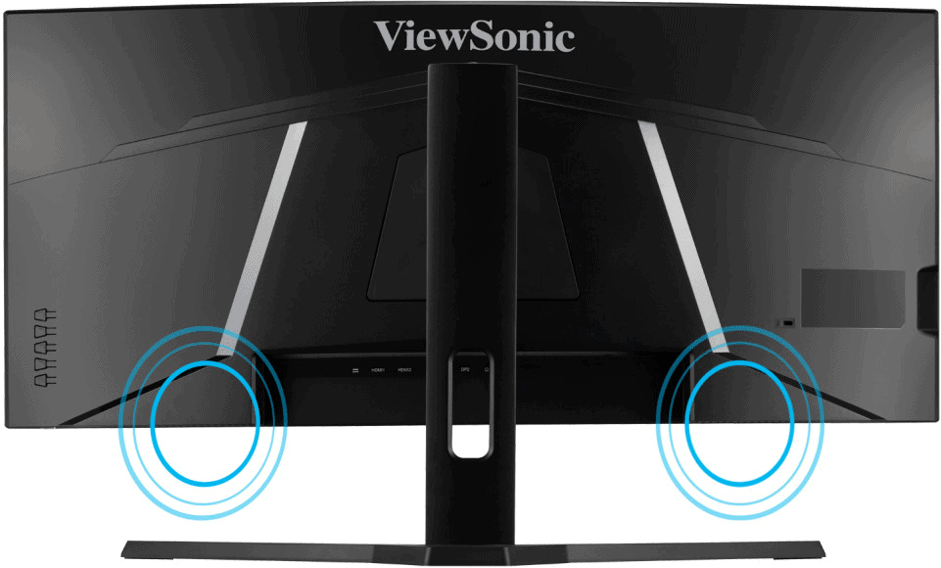 Design and features
VX3418-2KPC owns an ultra-wide screen of up to 34 inches. The curvature index is at a relative level of 1500R, helping users to cover when using. Ultra-thin three-sided design, extremely slim.
Ergonomic features are also present on the Viewsonic VX3418-2KPC monitor. From rotating the base to raising and lowering. Only rotating the screen vertically is impossible. It is also understandable because the size is a bit oversized, which will make the users themselves will have to struggle to do it.
The back is full of gaming, fashionable with raised contours. On the other hand, the relatively large base size will occupy a large part of the desk area. It will be proportional to the screen, solid when having to carry such a large screen.
In case users want to use more compact space, we can consider using a monitor mount. VX3418-2KPC also supports VESA 100×100 standard, convenient for desk layout.
Image quality
The screen has a resolution of WQHD 3440×1440 with an aspect ratio of 21: 9. Next, the scanning frequency up to 144Hz provides a smooth experience. Adaptive V-Sync technology helps users not to tear the screen when using, especially with racing games, etc.
Despite being a gaming monitor, the color tone index still reaches 100% sRGB, 79% AdobeRGB, and 80% P3. A good response such as entertainment tasks such as watching movies, playing games, and reading newspapers…
Sufficient connection
Viewsonic VX3418-2KPC is equipped with four output ports with two common standards: HDMI 2.0 x2 and Displayport x2. Along with the 3.5mm jack, users can use it with compatible headphones, without having to plug it into a case, laptop… The speaker feature with the screen has a sufficient volume, not suitable for the goal of experiencing the bass, treble, mid ranges…
Target audience as well as a task?
Just like the VX3268-2KPC, using the "big, giant" screen size will make it a bit difficult. Instead of the old display space just hanging around in 32, 27, or 24 frames, it has now increased to 34 inches. It will take time for users to get used to it. But in return for office tasks to compare financial statistics and securities, it helps us to have a much broader view. In terms of gaming, users can set up with a steering wheel set, or an airplane joystick. Feel more real than ever.
where can you get a Viewsonic VX3418-2KPC online
ViewSonic OMNI VX3418-2KPC 34 Inch Ultrawide Curved 1440p 1ms 144Hz Gaming Monitor with Adaptive Sync, Eye Care, HDMI and Display Port: Buy it now
---
Pamer
viewsonic vx3418-2kpc driver vx2718-2kpc-mhd review best monitor gaming issues 34 27 inch màn hình omni led – manual vx3418-2kpc-mhd reddit price in bangladesh rtings vx 3418-2kpc recenze va2405 specs series test 2k 144hz curved vx3418-2kpcreview vx3418-2kpc34 vx3418-2kpcreddit
[collapse]