amazon Garmin MARQ Captain reviews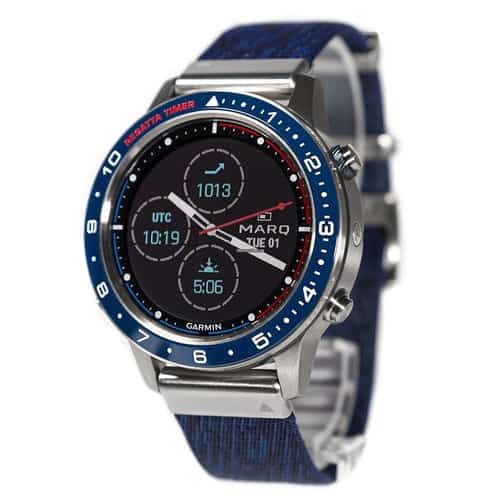 Garmin is a brand that produces smart watches that many people trust and choose. The company's products have beautiful designs that are suitable for many audiences. In particular, the high-end Garmin MARQ Caption smartwatch with many outstanding features.
Come with Biareview to learn all aspects of the Garmin MARQ Captain smartwatch. The smartwatch is said to be super luxurious in this article!
Exquisite design, luxury in every detail
Garmin MARQ Captain is a notable upgrade from Quatix 5, for beachgoers. The watch has a diameter of 46mm, a case thickness of 14.6mm, and a 22mm strap with a weight of only 88g. MARQ Captain features five mechanical buttons arranged around the watch face. The details on the product are a little meticulous and luxurious.
Garmin MARQ Caption owns a 1.2-inch screen with a resolution of 240 x 240. The rear of the watch is equipped with a battery charging port and an optical heart rate sensor. In addition, Garmin MARQ Captain is made from extremely "luxury" materials from Titanium body to Sapphire glass for maximum scratch resistance. The bezel is finished in ceramic, and the band is hand-woven.
Outstanding features only available on Garmin MARQ Caption
Large battery capacity for continuous use for up to 12 days
Garmin MARQ Captain can use for 12 consecutive days in smartwatch mode. In GPS mode, 28 hours without charging. The improved smartwatch integrates the Ultra GPS function to save battery life for up to 48 hours of longer use.
Water resistance 10 ATM
The Garmin MARQ Captain smartwatch is water resistant to 10 ATM equivalent to a depth of 100m. In addition, instead of using the MediaTek GPS chipset as before, this watch switches to Sony GPS. This promises to be a product with excellent positioning accuracy and battery saving.
Internal memory up to 32 GB
This smartwatch also expands the internal memory up to 32 GB for a rich content experience. At the same time, creating a comfortable storage space for users to freely download documents. It can even store more than 2000 songs from compatible services like Spotify® and Deezer.
Using a Pulse Ox sensor
At the same time, the Garmin MARQ Captain uses the Pulse Ox sensor as well. Features to measure heart rate and blood oxygen levels help monitor health status objectively.
Some other features on the Garmin MARQ Captain smartwatch
+ Monitor heart rate to determine stress level.
+ Built-in sports applications such as golf, swimming, running, cycling, trailing, sailing, and skiing.
+ Informs fitness metrics like VO2 Max, and fitness recovery tips.
+ When syncing with a compatible phone will be able to receive messages, emails, and notifications right on the watch.
+ Provide online payment support with Garmin Pay e-wallet.
+ Accessible to global positioning systems such as GPS, GLONASS, and Galileo.
+ ABC sensor helps navigate the next route by providing information about altitude, an electronic compass, …
+ Provides maps of more than 2000 races and more than 41,000 golf courses worldwide.
where can you get a Garmin MARQ Captain online
Garmin MARQ Captain, Men's Luxury Tool Watch with Advanced Nautical Features, Track Wind Speed, Direction, Temperature and Tide Information: Buy it now
---
Pamer
garmin marq captain american magic edition amazon australia america app купить price differences band best black friday buy bedienungsanleitung blue commander review cijena charger cena release date display features erfahrungen for sale vs fenix 6 watch face funktionen fiyat gen 2 1 manual golf gps smartwatch gebraucht đồng hồ instructions in india kaufen kopen modern tool men's malaysia montre olx preis prezzo quatix 7 recenze reloj specs strap software update solar size tutorial test uk user used unboxing usa usato 2022 men's
[collapse]