amazon HPE ProLiant DL360 Gen10 reviews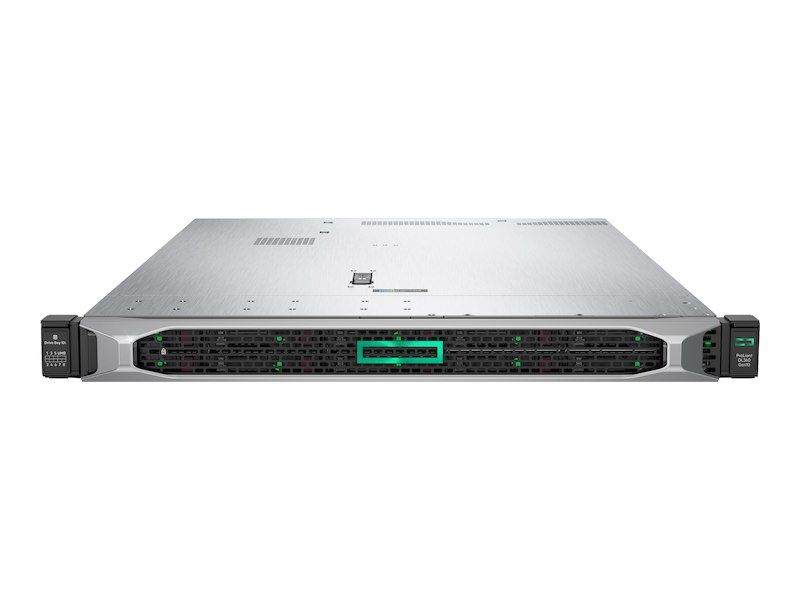 Great interior design; Xeon Scalable CPUs; Creative storage options; HPE iLO5 firmware management and security; Dual port 10 / 25GbE. A great option for power-saving businesses, the Proliant DL360 Gen10 is well designed, easy to expand and easy to manage.
Configuration evaluation HPE DL360 Gen10
Chassis: 1U rack
CPU: 2 x 12-core 2.3GHz Intel Xeon Gold 5118
Memory: 32GB ECC DDR4 2,400MHz (max 3TB / 2.667MHz)
Drive bays: 8 x hot-plug SFF (max 11)
RAID: HPE Smart Array S100i and P408i-a SAS3 / 2GB with FBWC / BBU
Array support: RAID0, 1, 5, 6, 10, 50, 60, 1 ADM, 10 ADM
Expansion: 3 x PCI-e Gen3 slots
Network: 4 x Gigabit, dual 10 / 25GbE FlexibleLOM
Other: Internal USB 2 (2), MicroSD card slot
Cooling: 7 x hot-plug fans
Power: 2 x 800W hot-plug PSUs
Management: HPE iLO5 Standard with Gigabit
Targeting businesses looking for a high-density server can handle the amount of work required, HPE's HP ProLiant DL360 Gen10 has a host of remarkable features in its slim 1U chassis. With support for Intel's Scalable Xeon CPUs. It allows it to offer many storage options including 10 NVMe drives.
In this review, we reviewed the Performance model of HPE 867963-B21, bringing 2x Xeon Gold and combining them with 32GB DDR4 SmartMemory. No drives are included in the price, but the chassis already has 8 hot-swap SFF ready.
Useful, HPE model DL360 Gen10 8x SFF that we can upgrade to support 10 NVMe drives. This kit includes a circuit board and requires all seven cooling fans, which have been installed on our server so that it is ready to run.
In fact, storage flexibility is a key design feature of DL360 Gen10. Even with the equipped NVMe dashboard, it allows you to combine NVMe drives with SAS / SATA SFF hard drives so you can adjust it to suit your business needs.
Design
HPE did a good job with the interior design, because it was completely neat inside. Two Xeon Gold 5118 2.3GHz CPUs are equipped with solid passive radiators and have 24 slot DIMM slots, allowing memory to be pushed to 3TB.
However, there are some terms when the Xeon Gold 5118 CPU only supports a maximum memory speed of 2,400 MHz. Furthermore, if you want to expand to 3TB of memory, you need to specify Gold 6100 or Platinum 8100 machines with the 'M' suffix because they support 1.5TB for each socket.
This server is a Performance Model, it comes with all seven cooling fans lined up between the motherboard and the backplane drive. These are hot plugs so they can be replaced without powering off, although we find their size small so they can't be removed and replaced.
There is plenty of space to expand and the server has two risers in the back that provide all three PCI-Express slots. You will not need to use them to expand the network because the 4-port embedded Gigabit port server and price include HPE's FlexibleLOM snap-in converter with 10 / 25GbE optical port.
where can you get a HPE ProLiant DL360 Gen10 online
HP 874459-S01 ProLiant DL360 Gen10 – Server – Rack-mountable – 1U – 2-Way – 1 x Xeon Silver 4112/2.6 GHz – RAM 16 GB – SAS – h: Buy it now
Storage feature
Models start with HPE's S100i controller chip, using the motherboard's three SATA embedded ports to support up to 12 drives and RAID 0, 1, 5 and 10. S100i arrays can actually handle 14 The drive and the two remaining hard drives are used for HPE's new dual uFF M.2 flash flash drive that fits in the back and occupies only a single SFF drive position.
All hard drives and NVMe drives use HPE's SmartDrive backplane loaded with status LEDs. Their white LED avoids costly mistakes, because any vendor with this lighting is can not deleted when the server is running.
SAS3 is ready and includes HPE's Smart Array P408i-a Gen10 snap-in module, adding RAID5, 6, 50 and 60 arrays to storage balance. It includes 2GB of memory supported by flash (FBWC) protected by a high-performance 96W Li-Ion battery.
Virtualization fans will find a pair of internal USB 3 ports to boot into an embedded hypervisor. There is an external MicroSD card slot for similar functionality, and HPE now offers dual 8GB MicroSD USB 3 memory for redundancy of the hypervisor.
Management features
DL360 Gen10 shows HPE's new iLO5 management controller and HPE's newly designed web interface. This is a major improvement over the iLO4 because it provides more information about key components, a new agentless management service, an operating system upgrade tool and increased performance.
Security is the main focus because the iLO5's new ASIC uses Silicon Root of Trust of HPE to validate the firmware and will stop starting the server if any spoofing is detected. The iLO5 software is also validated and will be scanned with a new copy if it does not perform this test while the Advanced Premium Security Edition license runs on a scheduled scan and repair process.
With the lab's virtualized OneView application updated to v3.1, we added DL360 Gen10 as a new tracked element. OneView is free if you only use it to monitor your server and storage environment and we find it provides lots of information about CPU, power and temperature, power control and running tools remote control sessions.
We used HPE's ILO Mobile iOS application on our iPad for remote access to the server and are presented with the same detailed interface as provided by the web browser.
Conclude
DL360 G10 is a small plant of a server, ideal for dense applications that require a lot of processing power. Support for the entire Scalable CPU Xeon family means that it can be easily customized to fit just about any workload and redesign the storage system making it highly flexible. Add great value and top iLO5 management security.
---
ファームウェア アップデート インストール – identifying components on オンラインromフラッシュコンポーネントfor (u32)サーバー eol 価格 型番 カタログ 構成図 構成 サーバーユーザーガイド sas モデル 最大消費電力 サポート サイズ sata システム構成図 消費電力 仕様 諸元 初期設定 寸法 セットアップ 製品番号 software 背面 マニュアル mib ユーザーガイド ランプ 画像 ドライバ ダウンロード 1u 8 bay 8x bronze 32gb specifications 8sf