amazon Innisfree No-Sebum Mineral Powder reviews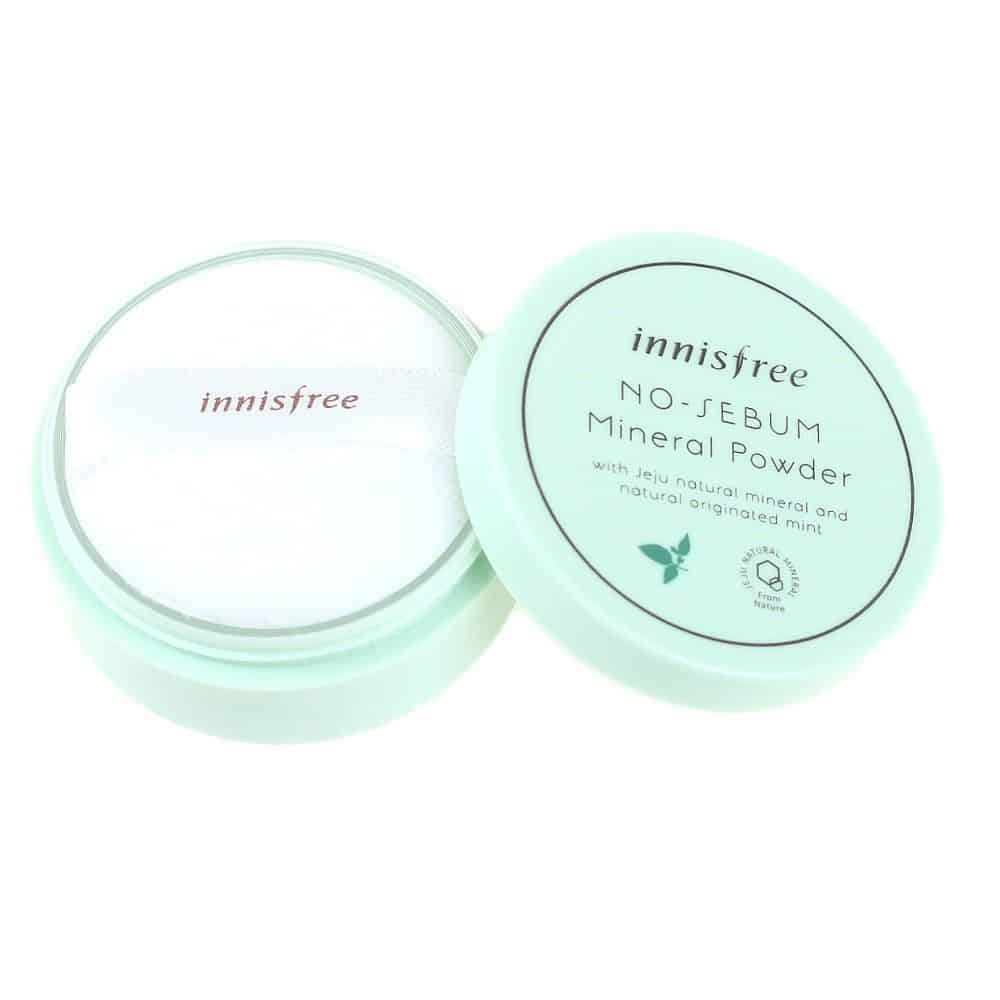 Uses of Innisfree No-Sebum Mineral Powder
Innisfree No-Sebum Mineral Powder is a convenient product with many uses:
Make an oily base powder after foundation.
Use to regulate sebum. This is the difference of the product with other conventional product lines. Therefore, Innisfree No-Sebum mineral Powder is suitable for people with oily skin or continuous make-up without break time to clean their face.
Ability to combine with other cosmetics, make up the perfect makeup layer such as: combined with blush or highlight powder, make eye cream to help keep the eyeshadow lasting longer, prevent the condition of mascara soiling, help lips become lipstick should be "hard" and smoother, …
Help you have light skin.
Adjust pH, maintain moisture for skin.
Create a relaxing, dry, soothing feeling for your face skin.
Greasy for hair, prevent sweat under the arms.
Composition of Innisfree No-Sebum Mineral Powder
Innisfree No-Sebum Mineral Powder is extracted from mint and natural minerals from JeJu Island. These ingredients have a great effect in moisturizing your skin.
The ingredients of Innisfree No-Sebum Mineral Powder listed on the product packaging include: Silica, Corn Starch Modified, Camellia Sinensis Leaf Extract, Mentha Arvensis Leaf Extract, Dimethicone Vinyl Dimethicone, Caprylic, flavorings, etc.
Silica: helps smooth skin, covering acne scars and large pores.
Corn Starch Modified: controls oil and limits sebum.
Camellia Sinensis Leaf Extract and Mentha Arvensis Leaf Extract: high antioxidant and prevent acne.
In addition, the product is also a 6 product no: no parabens, no artificial pigment, no mineral oil, no animal ingredients, no artificial fragrances, not talc powder.
How to use Innisfree No-Sebum Mineral Powder
Innisfree No Sebum Mineral Powder can be used in many cases, normally there are 3 cases:
Case 1: Make an oil-control base in makeup
You should use a powdery powder at the final stage of the face foundation, that is, after applying foundation and before applying eye makeup, blushing, and lipstick. To make a topcoat, follow these steps:
Step 1: Take the powder with a soft or thick makeup brush, lightly tap for excess pollen to fall off.
Step 2: Cover the product evenly on the face, spread the powder from the inside out until the powder is completely covered. The simplest rule is to apply the chalk in the T-zone first (forehead, nose and chin) and then to the area under the eyes and cheeks.
Note: You should focus on mainly in areas of oiliest and need the highest coverage.
Case 2: Alkaline oils for skin
When the skin feels too greasy, apply Innisfree No-Sebum Mineral Powder to control oil. The procedure is the same as in case 1.
However, you should refrain from alkaline oil in the afternoon as this can cause dark skin.
Effective alkaline product of up to 4 hours, if your skin is oily skin a bit shorter time (about 2 hours), you just need to miles a thin layer of powder is okay.
Case 3: Use as a primer around the eyes
Before applying eyeshadow, always use a primer. This primer works to make eyeshadow up to standard color and long-lasting. After you've completed the makeup for your face, follow these steps:
Step 1: Use a puff or brush to apply chalk on the upper eyelids, lower eyelids and the eye area.
Step 2: Choose eyeshadow and eye makeup according to your favorite style.
In addition to No Se-bum Mineral Powder, Innisfree has a compacted powder called No-Sebum Blur Powder. This powder is skin-colored and has the ability to conceal pores.
Feel about Innisfree No-Sebum Mineral Powder
Advantages
I love the exterior design of Innisfree No-Sebum Mineral Powder which is simple, beautiful and neat, very convenient to carry anywhere.
The lid is very easy to use, I just turn it on and open it right away. The product also smells quite mint, pleasant.
When using, I feel very cool, no secret, heavy. The ability of Innisfree No-Sebum Mineral Powder to control oil is very stable. My face is less oily and becomes more dry.
This product is like my savior. Whenever I have to go outside or have hot weather, my skin is filled with oil and greasy, very uncomfortable. With Innisfree No-Sebum Mineral Powder, I put it right on my face. Avoid feeling greasy skin, I'm more confident.
In addition, my skin has very large pores, but the tiny and fine chalk particles help cover this flaw. My skin looks smooth, no more visible pores.
The powder is white, but when it is on the skin, it does not make the skin white, but it is brighter. I looked in the mirror and I saw that the skin of my face was quite natural.
After a period of using the product, my face did not show any signs of irritation, the skin is still quite fine and no acne.
Defect
The pollen is quite small, so it takes a long time for chalking. You can fix this problem by using makeup brushes.
Chalk box without mirror is quite inconvenient.
where can you get a Innisfree No-Sebum Mineral Powder online
INNISFREE NO SEBUM MINERAL POWDER 5g TWO(2) PIECES: Buy it now
Innisfree No Sebum Mineral Powder 5g 0.17oz: Buy it now
Innisfree No Sebum Mineral Pact, 8.5g: Buy it now
Innisfree No Sebum Mineral Powder 0.18 Oz/5g: Buy it now
[Innisfree] No-Sebum Mineral Powder 5g x 3pcs (Bundle pack): Buy it now