amazon JBL Quantum 400 reviews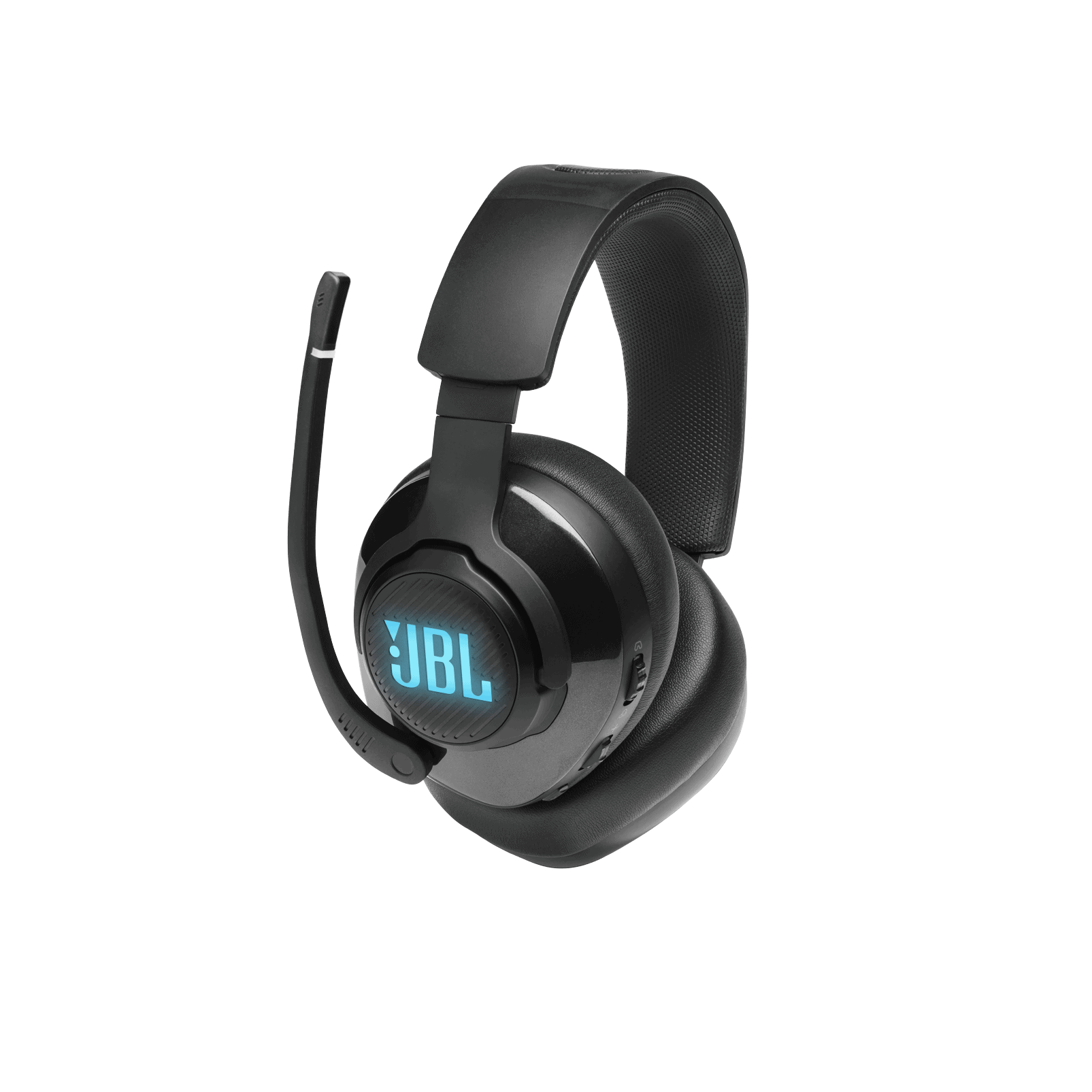 JBL Quantum 400 – A headset exclusively for gamers
JBL is a brand that is quite familiar to many users in Asian with quality sound products at reasonable prices. And now JBL continues to step into the gaming headset segment. With the Quantum series, JBL has shown that they are really serious from design to features, the highlight of this series is JBL Quantum Surround sound technology.
Although just entering the gaming world, JBL's Quantum series has a total of 7 gaming headset models with a full range of segments. The product that I review today will be the JBL Quantum 400 – located in the mid-range segment.
Design
My first impression is that this headset is well-machined. The earcup and earcups are made of solid plastic and hand-compacted, the rough surface helps to limit fingerprints. The earcup part has 6 width adjustable steps, comfortable even for people with large head size.
As for the Quantum 400 earbud, it has a not so cool design because there is no angular design and many colors like many other headphones on the market. The main highlight is JBL logo with RGB LEDs on a black background with diagonal stripes. The inside has an L / R symbol for easy user identification. Especially the thick ear cushions cover the ears with "smooth" and smooth leatherette material, which is quite easy to touch.
The ports and control buttons are located on the left ear. Includes 1 USB Type-C port, 3.5mm port, 2 dials to increase or decrease the volume, and fine-tune optimal sound for games. The other button is to turn on and off the mic, when holding this button for 3s, you can turn on and off the RGB led system.
Quantum 400's plastic upper frame has good elasticity but is not too strong, creating a comfortable feeling when worn for a long time. The part that is in contact with the top of the head is made of smooth rubber material.
The mic frame can be easily adjusted up and down and bent far or near depending on the user's needs. The mic head also has a filter for the wind filter and noise cancellation, with an LED light that will light when the mic is muted. A cool feature of the Quantum 400 mic is that when the frame is raised, it will automatically mute.
Comes with JBL Quantum 400 is the user manual, 1 3.5mm cable, and 1 USB Type-A to Type-C cable. Both are black and orange polka dots, upholstered premium, and sturdy. Both wires are identified as the source and the headphone input terminal in orange (the power input plug will be orange). The 3.5mm cable will be 1.2m long, suitable for mobile devices, but will be slightly limited if attached to gaming consoles. USB Cable Type-A to Type-C will be up to 3m in length, suitable for use with desktop computers.
Experience
The first impression when I just wear this headset is that the ear cushions are softly covering the ear. The soundproofing of this headset is quite good although Quantum 400 does not have the active noise canceling function of ANC as on the two higher-end models, Quantum 800 and One. If I brought it to the company to use, with the right volume, I didn't listen to any more telesales. The imitation leather material does not cause heat and sweat even though I wear it for a long time.
As soon as the headset is plugged into the computer, a gaming-inspired welcome sound creates a stimulating sensation. Immediately after that, a message appears inviting you to install JBL Quantum Engine software. This is the necessary software to enable the JLB QuantumSURROUND 7.1 surround sound feature, along with adjusting the volume settings, RGB lighting, or mic. JBL Quantum Engine's interface is modernly designed and intuitive with the necessary settings for your headphones. In the mic controls, there are also settings so you can hear the surrounding sounds.
Most notably, the Spatial Sound with JBL QuantumSURROUND feature helps to emulate 7.1 surround sound. JBL allows us to fine-tune both head size or body height, optimizing the audio experience for users. The JBL Quantum 400 also supports DTS Headphone X 2.0 surround sound technology.
In terms of sound quality, being a game ear aimed at shooting games, Quantum 400's bass is quite strong.
Especially thanks to JBL QuantumSURROUND technology, the sound is reproduced quite realistically. The authentically depicted footsteps and gunshots give you an idea of ​​near and far range or the direction of the sound. You can even know that the enemy is upstairs thanks to the sound source from JBL Quantum 400. The talk mic is very impressive with clear, authentic conversation quality and good noise filtering. When I make a call on the company, there's no noise from the telesales side.
Although it is a gaming headset if you do not have too strict requirements, watching movies or listening to music Quantum 400 still satisfies. QuantumSURROUND feature shows quite vividly with movies with the theme of war or racing, shooters. When listening to music, thanks to the quite thick bass range, Quantum 400 is quite suitable for EDM music genres. As for other genres of music, Quantum 400 has not made me feel impressive.
Summary
Although just entering the gaming world, JBL has clearly shown its determination with quality products spanning all segments from low to high, taking care from sound quality to software and support features. The JBL Quantum 400 is a pretty good choice for a gaming headset. If it needs improvement, I think it might be its appearance, adding a little more pit will make a more impressive gaming headset.
where can you get a JBL Quantum 400 online
JBL Quantum 400 – Wired Over-Ear Gaming Headset with Microphone and RGB, PC, Xbox, PS4 Compatible – Black: Buy it now
JBL Quantum 400 Premium Wired Over-Ear Gaming Headphone Bundle with gSport Deluxe Travel Case (Black): Buy it now
JBL Quantum 400 Wired Over-Ear Gaming Headphones Bundle with divvi! Black/Walnut Headphone Stand – Black: Buy it now
---
amazon jbl quantum 400 analise vs hyperx cloud alpha buy best battery life blk noise cancelling software download fone de ouvido engine gaming headphones guide headset review gamer tai nghe how to use price in india jib игровые наушники (jbl blk) lights lazada manual mic test xbox one setup philippines ps4 rgb reddit shopee settings specs usb unboxing 200 600 100 300 wireless weight bluetooth đánh giá driver app flipkart features firmware microphone not working nz near me over-ear bangladesh pakistan pantip troubleshooting wired headphone with game-chat dial – black 2
steelseries arctis 5
800 logitech g pro x razer kraken warranty over ear worth it