amazon Kindle oasis reviews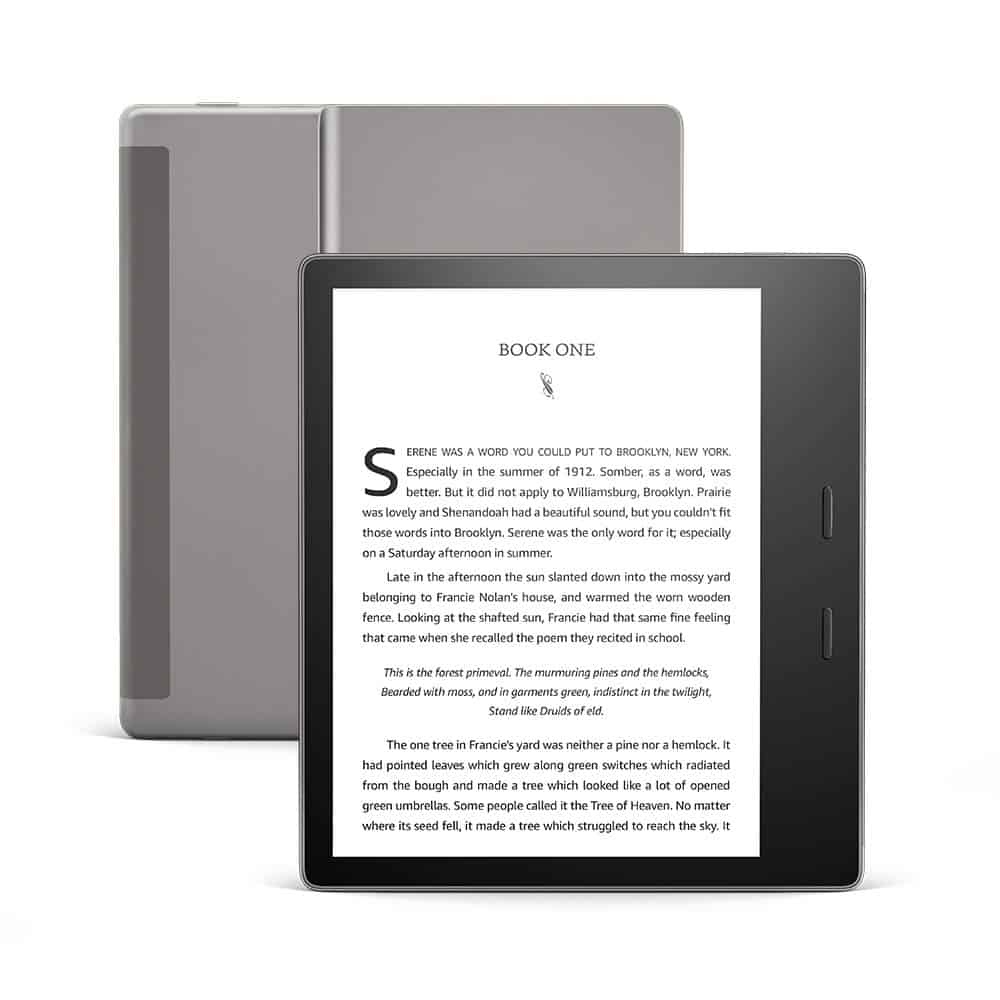 I was disappointed with the Kindle Oasis 2017 when reading the specs because it was much heavier than the original Kindle Oasis (2016), but perhaps that drawback can be offset by all other worthwhile changes: super strong battery, metal design, much larger display, and usability in the shower. At $250, the Oasis 2017 certainly isn't for everyone, but if you're an avid reader, you probably can't ignore this product.
There are 2 feelings you will see when you touch the Oasis 2017, the first is that it is a lot heavier than the old version and the second is that it is a lot better. The same weight as the Kindle Voyage, a machine I used to love but grew to hate when Oasis 2016 came out. This weight is the biggest weakness of Oasis 2017 for me because it is clear that Oasis 2016 is like a monument to the world of e-readers, it is lighter than a phone, and holding it for a long time is not tiring.
Although it is much heavier, when in actual use, Oasis still makes me very happy, simply because the grip is made larger, and thicker, the hand will grip better without much loss of skin like Oasis 2016. In addition, the metal case and ultra-thin design make the Oasis sexier, smooth, and silky, much more sturdy than the old generation. Surely this case will scratch more easily than the 2016 machine, but it's been a long time since you've seen a technological device made so smooth, so smooth and so inspiring.
Praise must also be criticized, the next point I don't like in Oasis is the micro USB port. It's too bad that a high-end device released in late 2017 doesn't use USB C and still charges as slowly as usual (about 2 hours with a 5W charger).
Going back to Kindle 2017, the screen only increased by 1″ from 6″ to 7″, but the experience was very different, really different. The display area of the Kindle 2017 is much larger than the 2016 model, a trade-off that is completely worth it. Now, the display content of Oasis 2017 becomes more like a paper book, with less page-turning (which means less battery life) and also more friendly to our eyes.
Not only is the display area 30% larger, but the Kindle 2017 also feels more even in the backlight, a drawback from the Voyager to the original Oasis. The Oasis 2017's backlight is softer, with fewer exposed parts in the dark.
Unfortunately, the resolution of Oasis 2017 is no different from 2016, although it is already very sharp, I still wish it was a bit higher.
The screen changes, but there's something else that's changed that Amazon rarely mentions: page-turning speed and response speed. As someone who uses Kindle Oasis 2016 every day, I feel that the page turning speed of Oasis 2017 is significantly faster, even manipulating the menus or typing on the keyboard is smoother.
Finally, the biggest change is the protective case of Oasis now no longer has a battery but just a normal cover with a built-in magnet. Similar to the old generation, you just need to touch this cover to the Oasis and they will automatically attract each other to connect. In return, with the absence of a bag, the Oasis's internal battery is significantly increased, up to 6 weeks if you read for half an hour every day. The low usage time without a bag has made a lot of users uncomfortable, although, for me, its advantage is that you are not afraid of the battery then you have to throw the whole machine away.
There will be two types of protective caps for you to choose from, the $60 leather one and the $45 water-resistant plastic one. The skin version of Oasis 2017 gives me a feeling that it is not like 2016, but it may also be because it has not had time to breathe, to "break in".
Conclusion:
Overall, for me, Oasis 2017 is worth it. It is not clear whether this device will be as happy as Oasis 2016 after a while, but the initial impressions are really impressive. Once again Amazon makes me happy with their product, an asymmetrical product, breaking the old standard to come up with a smarter new one.
Kindle Oasis 2016 is the only technology device that I have used for more than 1 year in the last few years, really happy and almost can't find anything to criticize. Hopefully, Oasis 2017 will do the same.
The Protective Cover not only acts as a screen cover but also as a base when placed on the table. If you open it, Oasis will open by itself, and close it will turn off by itself
If you pay attention, you will see that the buttons of the Oasis 2017 are lighter and quieter than the old version.
where can you get a Kindle oasis online
Kindle Oasis – With 7" display and page turn buttons:
Buy it now
Kindle Oasis Essentials Bundle including Kindle Oasis (Graphite, Ad-Supported), Amazon Leather Cover, and Power Adapter: Buy it now
---
Pamer
amazon accessories australia audible alternative apps argos ad free ads adjust brightness battery life black friday replacement 2022 best buy blue light bluetooth price buttons cũ case cover charger 10th generation champagne gold cellular color uk controls dimensions deals dark mode cm discontinued disable touch screen differences decal does not turn on e-reader epub ebay exit book editions essentials bundle egypt etui e ink ergonomics firmware frozen features reset working for sale $1 font size file formats first giá generations graphite gen 10 guide 11 go to home grip ghosting how get use hard holder button hacks hülle off instructions ireland immersion reading in store international version india is difference jailbreak jb hifi john lewis japan jumia jarir kindle paperwhite kaina keeps restarting kuwait turning freezing unlimited kopen going sleep keyboard koreader latest leather landscape libby left handed lockscreen lte library books manual models manga measurements magnetic mobile connectivity micro usb model s8in40 memory cw24wi new near me nz charging 100 no connecting wifi navigation or officeworks olx origami reddit operating signature offers kobo libra 2 pdf premium history page turner pakistan ppi pouch qatar quick start queued quiz answers questions fire qr code reader review release date refurbished resolution sleeve specs skin software update protector stuck lock south africa text speech tips and tricks target tutorial trade type c highlights troubleshooting teardown user used unboxing mod vs scribe versions 2021 ipad wiki weight waterproof won't wireless warranty connect warm without web browser xray x43z60 xda x ray xbox game pass download youtube yellow tv app zoom zhihu zurück zur startseite zurücksetzen zeit einstellen bibliothek zubehör zip zeitung lesen 1 3 đánh đọc voyage gì sách độ phân giải o que é forma 11th 2019 2023 8gb 32gb 5 4 rumors 4g leak news 5ghz 5g 15 5th 13 6 7 14 cena inch 64gb 6gb 6th 8 7th 8th 9th (10th generation) currys compare can play audiobooks you casebot change between emit have come with etsy ereader e-book find my factory of force restart fintie games goodreads gumtree getting started a set up worth it mini better than coming out hi fi jual headphone jack audio sage h2o elipsa lost lightweight listen won't moko wake hold charge manually most recent next newest navigate overdrive prime day power problems personalised animation popsocket qvc quando esce nuovo es il losing quickly replace remarkable remove from scribd sell setting second hand should i switch s8in4o word wise tesco upcoming upgrade using voiceview video very vocabulary builder vitalsource bookshelf voz when the will there be why so expensive what where released xataka pocketbook inkpad nhận xét young 2020 yoho do read sun time zone zealand pin máy túi đựng ưu điểm 1st 2017 2016 2018 2nd 32g 32 3g boox nova poke note 4th 4gb nook glowlight tolino vision oasis oder zoll 740 pro wi-fi many only charges 97 basic open draining fast dx ebook edition dies screenshot usb-c whitepaper us comparison buying take notes futrola za 3rd
[collapse]