amazon LOGITECH G933 ARTEMIS SPECTRUM 7.1 WIRELESS reviews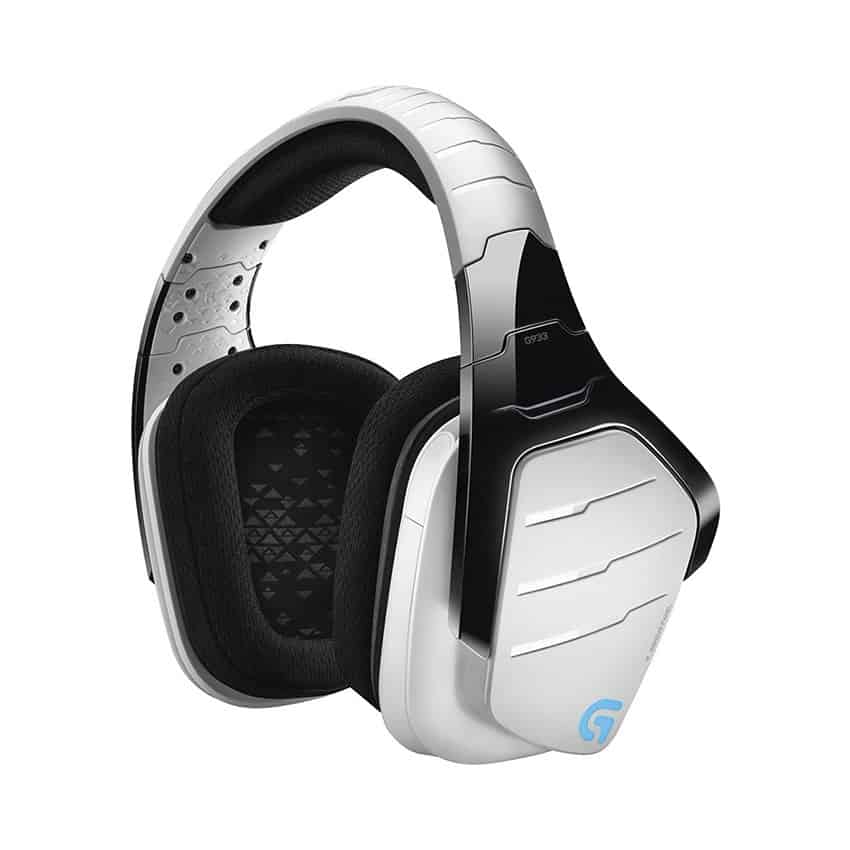 The Logitech G933 Artemis Spectrum 7.1 Wireless headset is one of the most notable high-end gaming headsets of all time. Recently, this product has 'revived' at a very attractive price.
Logitech G933 Artemis Spectrum 7.1 Wireless has a very complete set of accessories including 1 USB cord, 1 3.5mm wire with control talk, 1 RCA cord for entertainment devices, and 1 3.5 to 2.5mm jack. Thus, the headset will be able to work well in both wireless and wired mode with all entertainment devices, from PCs to mobile devices, even well with entertainment devices at home like HD, and Blueray through an RCA jack.
Particularly, the USB Receiver for wireless mode is 'hidden' in the headset, which is quite difficult to find, but also a unique point of Logitech G933 Wireless to confirm that the headset can be carried around very conveniently.
The design of the Logitech G933 Wireless still retains a very distinctive and eye-catching 'fashionable' look, completely not following the recent trend of perfect minimalism. This is the 'quality' of this headset and can never be confused with other brands.
The control buttons are very convenient.
When turning on the Logitech G933 Wireless, there will be LED lights on both sides of the headset as well as the Logitech G – Gaming series logo, which looks very nice, overall creating a very high-tech, very futuristic style.
The housing part of the Logitech G933 is extremely large, and the ear cushions are also very deep, covering the ears for sound insulation and comfort.
Going deep into the design, it can be seen that this headset is very solid with a metal frame. The outer shell of the headset is a combination of glossy and lumpy plastic, the glossy plastic part is quite luxurious, but it is easy to stick to fingerprints and must be cleaned regularly.
In addition, the joints of the headset are also very flexible and the decorative motifs are of excellent quality, beautifully finished without any excess plastic.
Logitech G933 has a design that is easily removable by 'attaching' with a magnet, one side is the previously introduced USB Receiver slot, and the other is the battery compartment. The valuable point here is that the battery can be easily replaced when damaged and this is a big advantage compared to many other wireless headphones.
The Logitech G933 has a very balanced sound range, easy to use for all purposes from gaming to listening to music and watching movies. Of course, the strength of the product is still in the virtual world with high detail, and the ability to reproduce super good space with a 7.1 surround sound system. But the balance in both high, mid, and bass bands offers a more diverse application.
Because it has to 'burden' the battery, the Logitech G933 is relatively heavy when compared to wired headphones, but it is normal with wireless products. Anyway, with a smart design, and soft cushion, long-wearing is still not uncomfortable, completely 'fine' for fighting games for many hours.
where can you get a LOGITECH G933 ARTEMIS SPECTRUM 7.1 WIRELESS online
Logitech G933 Artemis Spectrum Snow Wireless 7.1 Gaming Headset, White (Renewed): Buy it now
Logitech G933 Artemis Spectrum – Wireless RGB 7.1 Dolby and DTS Headphone Surround Sound Gaming Headset – PC, PS4, Wired Connection with Nintendo Switch and Xbox one – Mass Effect Andromeda: Buy it now
Logitech G933 Artemis Spectrum – Wireless RGB 7.1 Dolby and DTS:X HeadphoneX Surround Sound Gaming Headset – PC, PS4, Xbox One, Switch, and Mobile Compatible – Advanced Audio (Renewed): Buy it now
Logitech G933 Artemis Spectrum RGB 7.1 Surround Sound Gaming Headset – 981-000585: Buy it now
Logitech G933 Artemis Spectrum – Wireless RGB 7.1 Dolby and DTS Headphone Surround Sound Gaming Headset – PC, PS4, Xbox One, Switch, and Mobile Compatible – Advanced Audio Drivers – Black: Buy it now
---
Pamer
amazon logitech g633 artemis spectrum dolby atmos usb wireless mix adapter akku alınır mı price battery replacement bluetooth blinking red buttons broken power button bacteria headset g933 g533 7 1 bedienungsanleitung deutsch connect to xbox one phone cena not connecting charging cable how cascos casque drivers driver download snow software schlafmodus deaktivieren ear pads equalizer ersatzteile edition firmware update flashing gamer sem fio rgb gaming inalámbricos manual vs g935 g635 white 2 headphones surround installation kablosu leuchtet rot logiciel mic working unmuting mit handy verbinden mikrofon geht nicht no sound nintendo switch tai nghe ohrpolster opinie won't turn on ps5 problems spare parts pro precio review settings treiber test tool 98 3 27 gaming-headset user specs series x 4ghz adapter/receiver for blinkt spectrum7 g won't
[collapse]