amazon Garmin Vivomove Style reviews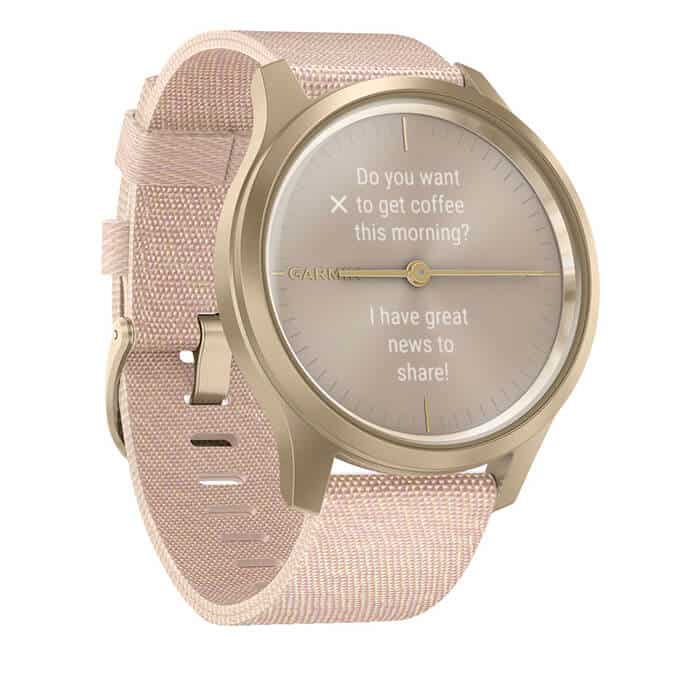 Watches are an indispensable beauty accessory for everyone. However, while creating style and protecting health, only GARMIN watches can fully meet.
Garmin watches not only possess superior technology but also true colors with depth, attracting all eyes. Among them, the Garmin Vivomove Style watch is a completely different level that smartwatch enthusiasts are looking for. Let's learn with Biareview this super product through this article!
Features of Garmin Vivomove Style watches that customers love
This smartwatch has a classic and modern design that creates a luxurious and aristocratic look for users. Besides smart features, Vivomove Style retains the traditional two-hand design, bringing elegance to Garmin watches. In addition, Vivomove Style also owns a watch face with a screen resolution of up to 240 x 240 pixels and a display size: of 24.1 mm x 18.7 mm, which can be seen clearly when walking in the sun.
In terms of structure, the Vivomove Style face cover is made of matte aluminum and dome-shaped Corning Corilla glass for a solemn and aristocratic beauty. Although the shell is covered with aluminum, the weight of the case is only 25.5g, which is relatively light, making it feel light and comfortable to wear. At the same time combined with a silicone strap to create a soft feeling. More specifically, the strap of the watch model has a variety of colors suitable for all styles, and all ages for you to freely change.
Outstanding use of Garmin Vivomove Style watch
Vivomove Style is one of those watches that are not only stylish, luxurious, and trendy but also affordable. If you are a technology lover, always keeping up with fashion trends, you should not miss it.
The outstanding uses of the Garmin watch:
Day and night health monitoring for users is the best feature included in Garmin watches.
Advanced heart rate measurement helps you know the status of your heart most flexibly.
Count steps, measure distance, and measure calories when you go out to work, run, or play other active sports.
When angry, you are easily stressed and cannot control your emotions, smart watches will help you measure stress so you can control yourself.
Keep track of your monthly menstrual cycle most accurately.
Get all your notifications right on your smartwatch without the need for a smartphone.
Extremely good water resistance up to 5ATM and can withstand a depth of 50m, believers can comfortably go swimming or play water sports games.
Up to 5 days of battery life in smart mode and an extra week in normal watch mode that only shows the time.
Above is information about the superior features and uses of Garmin watches. If you are a smartwatch fan and want this style, then choose the Vivomove Style watch.
where can you get a Garmin Vivomove Style online
Garmin vivomove Style, Hybrid Smartwatch with Real Watch Hands and Hidden Color Touchscreen Displays, Graphite with Black Woven Nylon Band: Buy it now
---
Pamer
amazon australia armband apps alarm activities align hands accessories answer calls alternative bands black battery life garmin vívomove style band size friday bandje replacement indicator how to use charger charging cable colors canada clock wrong change display champagne time cycling case discontinued do not disturb dc rainmaker david jones reagiert nicht datum einstellen deutsch dirzelis release date ebay ekg erfahrung euro rtv agd vivomove express uhrzeit media expert näyttö ei toimi features factory reset software update find my phone forum frozen firmware for running sale gold gps tracking graphite green golf gesture rose gunmetal gsmarena hybrid smart watch (gold/rose) (rose gold/white) hr hard harvey norman smartwatch review instructions iphone india instrukcja idealo obsługi is waterproof iq connect jbhifi jasnozłoty język polski jb hi fi joggen jak zresetować wyłączyć keeps disconnecting kokemuksia kaina kaufen kasutusjuhend klockarmband klokkereim koppeln kabel keine benachrichtigung light luxe latest leather gold-dust ladezeit gold/blush pink vs lily manual moss music control maybank malaysia – & silver myer mens nz responding touchscreen working vivoactive 4s on wrist or opinie olx opiniones odbieranie połączeń oplader ohje turn off pulse ox power pasek call price problems pay oximeter pantip quick reply test reddit restart strap 2020 refurbished gold/white specs screen protector tutorial troubleshooting text messages triangle timer tips uk user unboxing falsch uhr urrem setting up sport 3s venu 2s withings scanwatch 3 faces wristband wireless whatsapp notifications widgets youtube yoga zeiger zeigt falsche zurücksetzen ausrichten zilver różowo-złoty werkseinstellung zegarek sportowy różowo-biały đồng hồ collection vivomove3 recenze 2 2022 2021 fitbit versa 20mm 39mm galaxy oder 42mm 4 4pda 42 apple 5 avis heart rate accuracy buy bracelet bluetooth bandjes montre difference between and compare ceas cena does have champagne/dust gunmetal-dark gray radfahren verschil en mode d'emploi fossil gebruiksaanwijzing enable i check start activity zresetowac lässt sich garmin42mm stylesmartwatch markt silver/moss weather syncing ohne handy zegarka polar ignite premium rem til reloj reglage heure recensione sell samsung sleep set showing unterschied und video sq vivo steel graphite/black pepper goud/roze 6 (graphite/black pepper) blush white gold/pink warranty was kann die stylereview stylecollection stylerose garminvivoactive 3vs & slate carousell
[collapse]