amazon Skullcandy Indy Pro reviews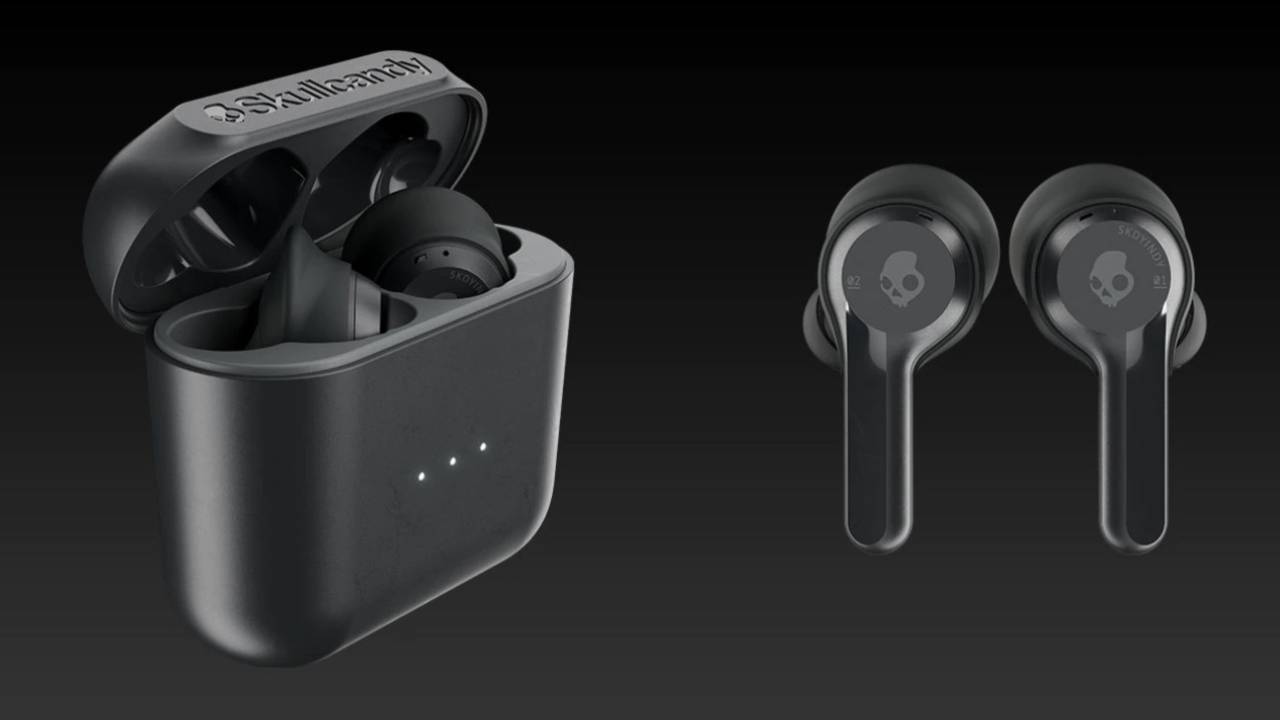 Open the box
Located in the lower segment and also more compact than Push, Indy's box is also small and no longer has plastic windows.
But of course, the Skullcandy 's still stylish' Hip hop 'box design, looks unmistakably!
Open the box, we also have quick user guide, especially for the first connection.
The kit includes 2 rubber buffers and a micro USB cord. Overall this kit is fine, I still want the carrier to switch to USB Type-C and / or add some more buffers to fit more ear sizes.
Design
Leaving the big design, Skullcandy Indy 'learns' the design of the Apple AirPods for a slimmer, softer look. From the box of the headset is quite similar to the pair of 'Apple' headphones, only black.
This case has a cross-sectioned lid, so only slightly tapping with the thumb is open, a pretty smart design. A minor drawback, but it is worth noting that the box is made of soft plastic, so if you put it together with sharp objects, it might be scratched, so those who invest in these headphones should avoid it.
The earpiece looks a lot like AirPods, with a large strap and has 2 'wings' to put the microphone closer to the user's mouth. And like AirPods, Indy has 2 external touches to call the virtual assistant, transfer songs, adjust the volume very conveniently, an upgrade over physical buttons at Push.
The headphones are quite large, but designed reasonably enough to wear on the ears without being disturbed. But for those with very small ears, you should try it before deciding to buy, because Indy will not fit your ears.
This pair of headphones is equipped with IP55 water and dust-proof standards, suitable for those who regularly use gym headphones or with their customers Skullcandy went skateboarding. If it falls to the ground or even puddles, the headphones will definitely 'survive'.
Technical specifications
– Dynamic 6mm speaker diaphragm
– Frequency range: 20Hz – 20KHz
– Impedance: 16 Ohms ± 15%
– Sensitivity: 95 ± 3dB
– Bluetooth standard 5.0
– IP55 water and dust protection
– Weight: 10.5g (headset), 59.5g (charger box)
Practical experience
An extremely valuable upgrade from Indy compared to the Push pair is the transition from the old Bluetooth 4.2 standard to 5.0 to save power and reduce latency. Push's delay is not really bad, but it goes 'well' with Indy, making it a true wireless pair of headphones that play the ideal game and movie. With Indy I also minimize the phenomenon of mid-wave loss, still present when using Push pairs.
As a pair of Skullcandy headphones, of course Indy's center of focus is on the bass band. Billy Eilish's Bass in the song "Bad Guy" is indeed a "jump" in front of the listener, very explosive. The ear also does not control the sub-bass part too much, but to play more "freely", creating a drum-filled sound. Those who are bass-heads, and especially like the Skullcandy bass playing before, will definitely not be disappointed with this Indy pair.
Although it is at a lower price point, I find that Indy's middle range has an improvement over Push. Push has a singer voice that is natural enough, but lacks the brightness in the high-mid part and backs a bit too much. Indy brings the singer closer, doesn't cut too much of the high-mid part, so this part is always outstanding although standing next to the bass is not weak at all. Birdy's voice in Skinny Love was warm and thick, but it was still clear enough of the serenity needed for this song. No one bought Skullcandy to listen to the main vocal and jazz songs, but for Indy, those songs also became less optimistic.
The high-pitched part is still not a strong point for Skullcandy's new generation of wireless headphones, though sufficient in volume but still lacking in thickness. Skullcandy is still praiseworthy for giving up treble 'super heavy sibalance' of 50/50 or Titan couples, especially with Indy, which has a certain lightness that can be suitable for slow songs. But I still want the company to add a bit of thickness so that the sound becomes stronger.
Summary
Personally, this is a very 'right' product of Skullcandy, not only correcting some of the remaining errors of the first Push headphones, which are placed at an approxiately priced. This is definitely an indispensable choice for those who love Dance music, EDM, and especially those who have been fans of the exterior design and signature sound quality of the American spund company.
Advantages
– With touch control
– Possess the latest Bluetooth 5.0
– Very low latency, the connection is also quite stable
– Duration of use is 16 hours
– IP55 standard water and dust protection
– The sound is strong, but the band is clear
Defect
– Soft plastic box, so it can also be scratched
– High sound stops at a good level
where can you get a Skullcandy Indy Pro online
Skullcandy Indy Truly Wireless Earbuds with Bluetooth Microphone, IP55 Sweat, Water, and Dust Resistance, 16-Hour Battery Life: Buy it now
---
価格 call siri 説明書 sesh 操作 使い方 通話 日本 発売日 レビュー và 5 0 jabra 65t elite 評価 評價 開箱 イヤーピース 片耳 口コミ スペック 接続 低音 ヨドバシ リセット blinking deep light moab n p u r argos – blue friday dublin fearless fülhallgató fekete (s2ssw-m003) vezeték nélküli green kõrvaklapid schwarz (s2ssw-m704 indigo) noirs prisjakt (s2ssw-m003 black) vélemények water-resistant xt zwart draadloze oortjes (zwart) audífonos indigo/blue auriculares (in bluetooth) (black) in-earbuds casti pastel green/sage/pastels my s2ssw-m704 hörlur svart (blue/indigo) teszt español sku ip rating ă 9 tws d audio audifonos inalámbricos trådlösa hörlurar playing stay microfon jib noise-isolating both link keep earphone headphone zone instruction operating does have location precio mexicoskullcandy bt currys compatibility pris deutsch waterproof water distortion problem new device each won't together phone iphone will re wont pairskullcandy owners 2skullcandy aptx altex ca alternative application lag box cũ chill charger croma cheap dope distance driver gels tips factory functions fake fred meyer falling out gold gestures gym gsmarena glow grey wear pause hours skip ireland jarir john lewis tune 120 jlab executive turning cutting kaina kaufen lost limited edition lebanon multipoint macbook maroon noel leeming staying connected newegg opinie officeworks problems pow parts quora too right rubber replacement range refurbished skins support tinhte touch used uncomfortable unbox therapy up beats x shots x5 zurücksetzen đánh 2019 3 beeps apple are good bán bose soundsport ps4 cases shower work danh gia disconnect randomly disconnects ecouteur emparejar funda para flashing lights guatemala sync jbuds sport won't mediamarkt stopped powerbeats resetting repair reseña rha trueconnect ripley słuchawki dokanałowe czarny samsung staples bezprzewodowe saturn trouble ticpods using software showing hesh know when charged liverpool d'emploi ephn aliexpress asus skin hcm nội kokemuksia vietnam lowskullcandy com amazonuk version preto resetear negro indywireless bluetoothearphones indy/black 完全ワイヤレスイヤホン s2ssw-m003-a наушники s2ssw m003 s ư size g bd lowest