amazon ASROCK B460M PRO4 reviews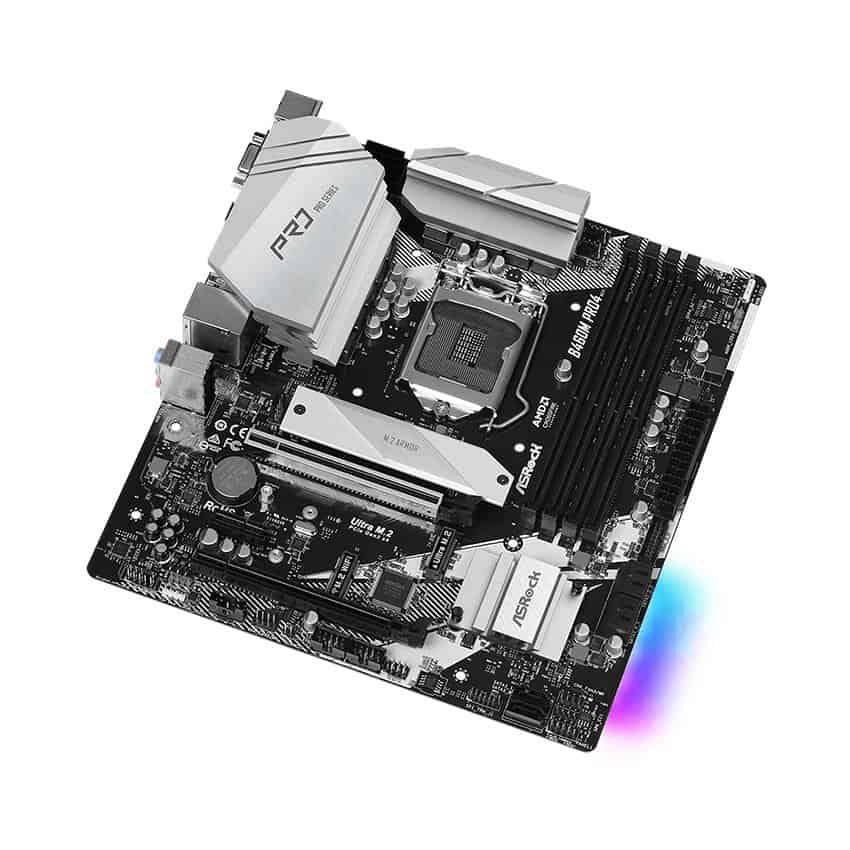 You have a limited budget but still want to get the full technological features of the 10 generation Intel Core processor line or you just want to upgrade the old gaming system at home to keep up with technology today? Take a look at Biareview through ASRock B460M Pro4 mainboard
ASRock B460M Pro4 is based on the Intel B460 chipset platform and will support the current generation of Intel socket LGA-1200 processors as well as the 11th generation in the future. This mainboard is still equipped with other state-of-the-art features such as DDR4-2933 memory support, two high-speed M.2 22.2 PCIe slots and M.2 2230 ready for Intel Wi-Fi as well as USB Type-C 3.2 Gen1 5.0Gbps connectivity, control ARGB lighting via ARGB and RGB headers with ASRock Polychrome Sync….
ASRock B460M Pro4 has a simple, lightweight overall design with 2 black tones for the PCB circuit and device pins and silver for the heatsink assemblies, this product has the common Micro-ATX standard size.
The VRM circuit board is divided into two areas with two separate aluminum heat sinks with a large size blade that both MosFET heatsink and decorated as a cover for the rear I/O assembly. The VRM cluster on this mainboard has an 8 phase (doubler) design for the CPU core and 2 power phases for I / O.
VRM cluster with a 2-stage MosFET system including SM4436 and SM4337 controlled by 4-phase uP9521R controller. To create an 8 phase power supply for Vcore CPU, ASRock used doubler circuit design with 4 IC up1962S on the back.
Four memory slots support up to 2933MHz dual-channel DDR4 memory and the maximum support capacity is 32GB.
Near the RAM slot are two expansion RGB pins, this mainboard supports both ADDR RGB 5v + and RGB 12v + LEDs.
The Southbridge chipset is equipped with a simple small heatsink, surrounded by 6 6.0Gbps SATA3 connectors and expansion pins and a single BIOS.
ASRock B460M Pro4 is only a popular, low-cost product, but it is also equipped with 2 M.2 slots, of which the first M.2 slot still comes with a heat sink and PCIe 3.0×16 is also heavily armored. In addition, this is also one of the few popular segment mainboards on the market that has an M.2 2230 slot available for Intel WiFi modules.
Simple audio cluster with Realtek ALC1200 driver chip with separate circuit design for each left/right audio channel as well as Nahimic Audio audio technology to enhance sound quality.
Besides standard connections, ASRock also equips users with a racket to install extended antenna pins later.
Performance evaluation:
Configuration of evaluation system:
CPU: Intel Core i5-10600KF
Memory: Adata XPG Spectrix D50 3200 16GB
VGA: AMD Radeon RX 580 8GB
SSD: Plextor M8SeY 512GB
Plextor M7VC 512GB.
PSU: EVGA G2 1000W
One of the main topics discussed in the most concerned and shared technology user communities today is that Intel limits the Power Limit on its new generation processors state of lag when in the full-load state. For Z-series motherboards, users can adjust the Power Limit levels as above but with B-series mainboards will not allow to change this index. However, manufacturers like ASRock always have a way to change this index to bring maximum performance on the user's processor and ASRock called BFB (Base Frequency Boost). The B460M-Pro4 mainboard is also equipped with this feature (users need to update the BIOS to version P1.20) but limit the Power Limit to a certain number.
With our Intel Core i5-10600KF processor, this mainboard can reach an all-core turbo of 4.5GHz at full-load, at this clock rate MosFET hardly has to overwork the heat. The amount of heat released on the two heat sinks is only slightly warm, not too hot.
Epilogue:
With a simple, sophisticated design full of state-of-the-art features, you've got a mainboard that's powerful enough to handle well on Intel Core i3 / i5 processors even with Core i5- 10600KF it can also be healthy, so what is left for you to worry about down is the money.
where can you get a ASROCK B460M PRO4 online
ASROCK B460M PRO4 Supports 10th Gen Intel Core Processors (Socket 1200) Motherboard:Buy it now
---
asrock b460m pro4 review micro atx lga1200 motherboard (lga1200 b460 ddr4 usb3 2 sata3) mainboard main micro-atx 에즈윈 드라이버 обзор (lga 1200 m/b 3-y driver intel matx so retail hackintosh lga desktop overclock supports 10th gen core processors (socket 1200) specs vs z490m