amazon Garmin Forerunner 245 Music reviews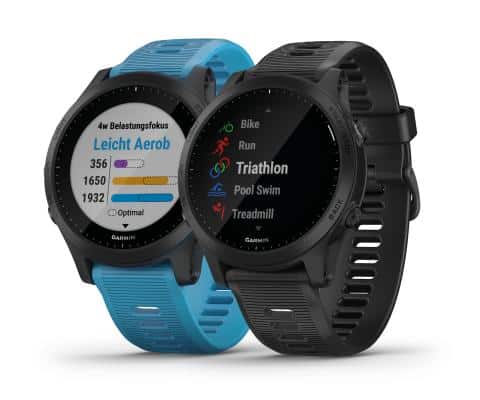 With Forerunner series, Garmin focuses on users who regularly practice sports and turn devices into reliable companions with effective measurements and exercises. Forerunner 245 and 245 Music are two new devices and have prices in the middle of the Forerunner range.
The more advanced features from the Forerunner 245 Music and the mid-range price, Garmin is ready to take this device to compete with Apple Watch in the smartwatch market.
In order to have a wise choice when deciding to buy the product, users will need to thoroughly understand the features, which are suitable for their needs. At the mid-range price, the duo Forerunner 245 & 245 Music will be a reliable choice for sports enthusiasts.
However, there will be many users who favor the slightly more expensive Forerunner 645 than the 245 Music but have more important features. Let compare these two product lines to find out what the strengths of Forerunner 245 Music are and what users have to trade off to get the price more comfortable than Forerunner 645.
Before diving into the new features on the Forerunner 245, let's explore the shortcomings of this device compared to the Forerunner 645. Garmin has reduced some of the features of 645 on 245 to make the price more pleasant for users.
First of all, there are features of pressure and altitude measurement 645 owned. As such, Forerunner 245 will not be able to track when the user walk stair and cannot measure the exact height when hiking. However, the removal of this sensor has no effect on the user side.
But it can be seen that Garmin launched the Forerunner product line, which is purely for running lovers, not just a health related indicator because Garmin already has other smartwatch lines available. Good performance of this function and has a cheaper price than Forerunner.
Elevation and pressure sensors are important for frequent walkers and joggers as well as users who climb hills or other uneven roads. Therefore, many users will accept an additional cost to own Forerunner 645.
In addition, the features that make the Forerunner 645 different from 245 are the silver border around the screen and the Garmin Pay watch feature. Besides, 245 will not support Wi-Fi connection while 245 Music owns this feature.
On the other hand, Forerunner 245 Music is made up of a combination of relatively new features in Garmin's wearable device category. In addition to familiar features like heart rate measurement and onboard GPS positioning, Forerunner 245 also has an oxygen pulse sensor to measure oxygen saturation in the blood, able to store up to 500 songs and also support GPS Galileo.
Forerunner 245 Music also features daily stress monitoring as well as body health and endurance. Based on the data of the previous day, users will know the level of exercise to suit the body.
In addition, the device also has a safety tracking feature that detects users who fall while exercising or working. This feature will immediately offer options to contact relatives or emergency services.
In addition, Forerunner 245 Music will also track all day activities of users, sleep all night and give notifications from linked smartphones. The design of this watch makes users feel comfortable despite wearing all day.
Like many Garmin devices, the Forerunner 245 Music does not have a touch screen but, in contrast, the 5 navigation buttons work very well when the user has sweat from practicing. Combined with 5 ATM water resistance, navigation buttons will help users to use the water to monitor swimming easily.
The screen of Garmin Forerunner 245 Music also has Chroma technology which helps users to use it well in sunlight and also has backlight for users to turn on when needed by the top left button most.
Although Forerunner targets users who like to run, this watch also contains material for many other subjects such as running, swimming, fitness machines, yoga and indoor and outdoor bikes. For skiing or a variety of combinations, Forerunner 245 Music does not have support.
Optical heart rate monitor works very efficiently and accurately in all tested exercises. Oxygen pulse sensor to measure oxygen saturation in the blood but only really useful when exercising in high intensity or if the user has breathing problems (especially useful when there are signs of difficulty breathing during sleep).
Garmin 245 Music GPS positioning is very accurate and determines the location of the fast raast. The device's battery life is designed to support a lot for the GPS feature. Forerunner 245 Music can operate up to 24 hours if GPS is turned on continuously and up to 6 hours for both positioning and listening to music.
Forerunner 245 is also supported with Garmin Coach feature, which helps users to provide reasonable exercises, suitable for the purpose of users from data completed by professional coaches.
For music storage, Forerunner 245 Music has the ability to store music from online services like Spotify. Users will use Bluetooth headsets to connect to the device.
Garmin Forerunner 245 Music is also supplemented with menstrual health monitoring, linking the Connect app to the phone. This is a pretty useful feature for women. During the first week of use, based on basic data, users will add personal cycles to the Connect app for easy viewing of information.
The application will display a cycle and indicate which stage the user is at. Since then, users will be able to monitor the cycle as well as record abnormal symptoms and note to the doctor in case of necessity.
Forerunner will also monitor the user's health in each day of the cycle, thereby informing users of the diet needed to ensure nutritional quality.
Garmin made a smart decision to produce the Forerunner product line, focusing on users exercising. Although non-popular products such as Apple Watch and Samsung Galaxy Watch, they have Garmin's very own features.
Forerunner 245 and 245 Music promise to support users a lot in life, health and fitness and sport at mid-range prices.
where can you get a Garmin Forerunner 245 Music online
Garmin Forerunner 245 Music, GPS Running Smartwatch with Music and Advanced Dynamics, Black: Buy it now
Garmin Forerunner 245 Music (White) Running GPS Watch Runners Gift Bundle | +Garmin Water Bottle, HD Screen Protectors & PlayBetter Portable Charger | Music & Spotify, PulseOx 2019 010-02120-21: Buy it now
Garmin Forerunner 245 Music Aqua Clever Training Power Bundle: Buy it now
Garmin Forerunner 245 Music White Clever Training Power Bundle: Buy it now