amazon Gigabyte RTX 2080 Super Gaming OC 8G reviews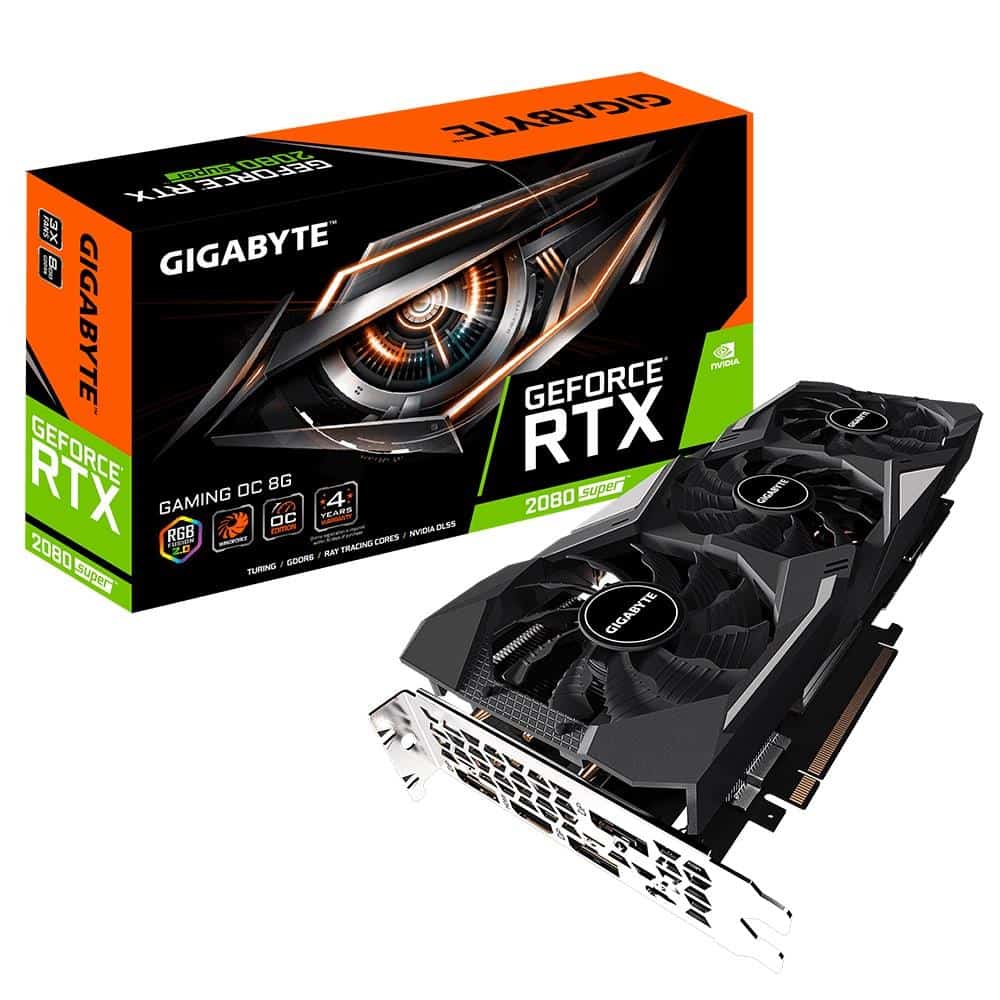 Gigabyte RTX 2080 Super Gaming OC 8G – After being launched just a year ago, NVIDIA has rushed to "refresh" its RTX product line with Super versions with enhanced power to "fight". The new rivals from the "red team", which is undoubtedly the most sought after by high-end users is the RTX 2080 Super series.
It is easy to understand that the RTX 2080 Super was launched with a much higher power than the "elder" RTX 2080 before, but it owns a much more "good" price, becoming a completely new number one choice in group of video cards in the premium product segment.
Gigabyte is one of the earliest companies to bring this product to the Asian market with the name Gigabyte RTX 2080 Super Gaming OC 8G and the Windforce 3 design familiar to its fans recently.
Is this the expected product of the premium segment?
In fact, to replace the older RTX 2080, NVIDIA has brought quite a lot of improvements to the RTX 2080 Super graphics processing chip series, most noticeably the enhancement in both CUDA cores and RT cores, accompanied by boost clock speed, is also pushed up to 1,815MHz compared to only 1,710MHz on the old version.
Inheriting those upgrades, Gigabyte even slightly overclocks the Gigabyte RTX 2080 Super Gaming OC 8G up to 1845MHz at the boost frequency, once again trying to close the gap with today's top NVIDIA product is the RTX 2080 Ti a little more, so the power of the product performs quite well on both Benchmark and game tests.
In the first 3DMark Fire Strike test, Gigabyte RTX 2080 Super Gaming OC 8G gave an impressive result when it scored a system score of 22,178 points with a graphic score of 28,786 points, nearly 30% difference compared to the version GPU RTX 2060 Super was previously about graphics power.
In the 3DMark TimeSpy test, which allows for DirectX12 rendering, the score reached up to 10,375, which shows the smooth processing ability of the product in complete rendering tests on DirectX12 platform, an impressive number, even even slightly better when compared to a "senior" product is overclocked at the "dramatic" level as the product of "owl home team"
In the 3DMark Port Royal test that allows rendering Ray Tracing technology, Gigabyte RTX 2080 Super Gaming OC 8G shows its strength as the first product that can achieve frame rates in excess of 30fps, only a slight decrease down to approximately 28fps in scenes with very complicated lighting environments.
This shows that this is an initial product that satisfies the requirements of this heavy rendering technology and is capable of being a "mainstream" graphics card for you for a very long time, even if the Ray Tracing application game is becoming more and more popular in the near future.
Coming to real game tests, it is easy to see that Gigabyte RTX 2080 Super Gaming OC 8G proved to be quite strong compared to Gigabyte RTX 2060 Super Gaming OC 8G in "specialized" games for "green teams" like Batman Arkham Knight, Far Cry 5 or Shadow of the Tomb Raider, achieved a 20% increase in tests, while for some "red team" games like Assasin's Creed Odyssey, the acceleration was modest more expensive, only reach from 5% to 10% only.
In two fairly recently released games, Gears of War 5 and Borderlands 3, Gigabyte RTX 2080 Super Gaming OC 8G performed exceptionally well when it reached a steady speed of over 110fps at the highest setting at 1080p, ensure the "smooth" level at the highest level for gamers when participating in the "fierce" network arena even when encountering the most intense fire scenes.
Overall, Gigabyte RTX 2080 Super Gaming OC 8G is too much for today's games, even enough for super-fast screens with up to 144Hz scan speed through the anti-tear feature G-Sync comes, giving players the smoothest experience whether single or network.
As a product in the high-end segment, it seems that the design of Windforce 3 has performed very well on the versions of RTX 2060 Super and RTX 2070 Super was not enough to satisfy a powerful and radiating new GPU. as heat as RTX 2080 Super.
The first unpleasant experience for Gigabyte RTX 2080 Super Gaming OC 8G is the loud noise of the fan when playing games without headphones, forcing the writer to embark on testing out practical problems.
Coming to the familiar Furmark stress test for a long time, it can be seen that the temperature increases slowly but steadily increases when the GPU temperature reaches 76 degrees Celsius, at this time, all three cooling fans begin to reach speed 100% and howling quite "hard" but still not completely stable temperature.
Over the next 10 minutes, the temperature gradually increased to a stable level of 86 degrees Celsius, a fairly hot level for desktop graphics cards, at which point the processor core's activity began to become unstable, constantly limited to 1,575MHz and then tried to "pull" to 1,650Hz, thereby also causing fluctuating temperatures around 84 degrees C to 86 degrees C, forming the aliasing on the temperature graph of the Furmark test.
This shows that the Windforce 3 heatsink on Gigabyte RTX 2080 Super Gaming OC 8G is not strong enough to cool the processor, forcing the BIOS to lower the throttle to control the temperature of the chip, to avoid happening. issues unfortunate overheating or chip burning.
This is a serious problem, forcing users to consider more heat dissipation, and if operating for a long time, you will encounter the situation of not exploiting the maximum power of the processor chip Super RTX 2080 powerful.
where can you get a Gigabyte RTX 2080 Super Gaming OC 8G online
GIGABYTE GeForce RTX 2080 Super GAMING OC 8G Graphics Card, 3x WINDFORCE Fans, 8GB 256-Bit GDDR6, GV-N208SGAMING OC-8GC Video Card: Buy it now
---
amazon
gigabyte rtx 2080 super gaming oc 8g
reviews on newest prices of deals best buying a lastest what is at where to buy can i you get online purchase sale off discount cheapest for products tutorial specification features test series service manual instructions accessories geforce graphics card review 8gb gddr6 nv nvidia rtx2080 3xdp/hdmi