amazon GIGABYTE Z490 AORUS XTREME reviews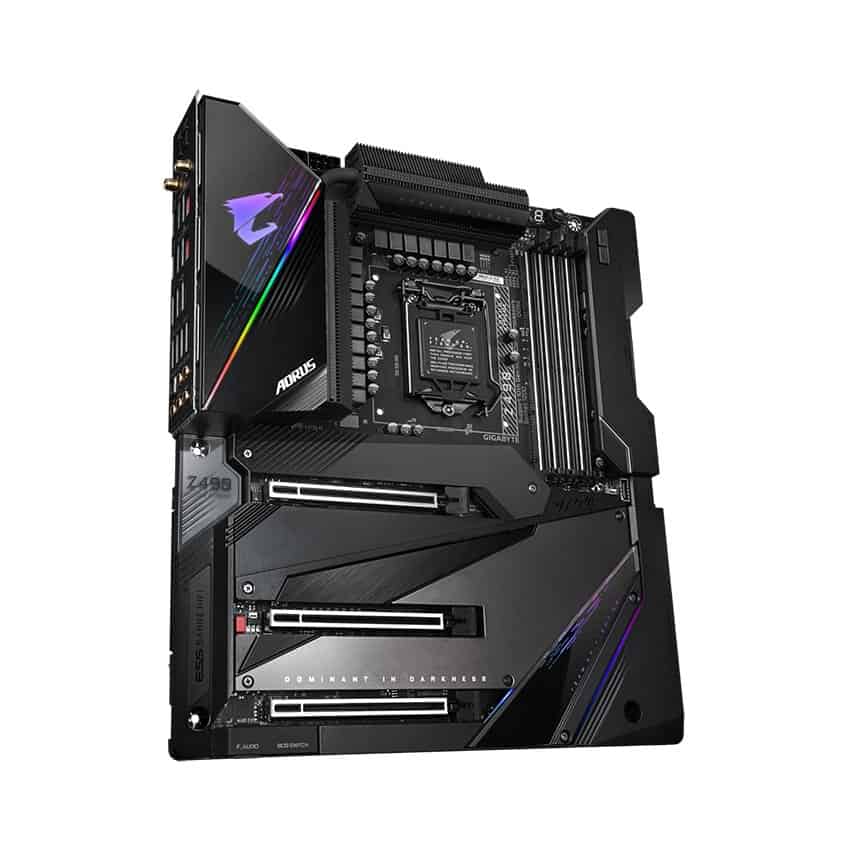 A new platform, a new generation of chips will come with a series of new mainboards, and this year the GIGABYTE brand's AORUS has also been renewed including Z490 Aorus Xtreme, the last boss of the AORUS series based on the chipset. Intel Z490 with a lot of technology, equipped with features that must be said to make teeth for advanced users in addition to supporting the 10th generation Intel Core processor series and of course it still carries in the bloodstream overclocking powerful, other outstanding technologies such as Wi-Fi AX wireless networking (6th generation Wi-Fi), 2.5Gbs LAN from Aquantia and ESS Saber audio technology advanced. long with that is a high-end thermal solution for all components on the mainboard such as Thermal Reactive Armor, including Fin-Array II aluminum foil cooling design, Direct Touch Heatpipe II direct-contact copper pipes and NanoCarbon case …
Box and accessories
Right from the box, Z490 Aorus Xtreme has shown a change compared to the previous Z390 Aorus Xtreme version, it no longer has a striking RGB style but instead is a simpler black color with the icon Ung is a trading name and 2 technical logos.
The back, more complete with the overall image of the Z490 Aorus Xtreme mainboard, is accompanied by the key features of this mainboard that gives you a preview of what we will get this product.
Inside, it is divided into two tiers, with the upper level being the main product tray and the bottom used to store accessories. Even accessories are also divided into small compartments that distinguish each accessory inside. The first accessory to mention is a large decal with lots of decorative stickers given by Gigabyte to users.
A high-end mainboard, the accessories are also very many and include:
User manuals
Quick assembly instruction leaflet
Aorus sticker in metal
2 temperature sensors
The USB contains drivers and applications
6 SATA 3.0 cables
4-wire RGB accessories
2 Aorus Wi-Fi antennas
2 bundles of Aorus
Type-C to 3.5mm audio converter
4-port USB 2.0 expansion connector
Front I / O cable adapter
Mini debug speaker
Overall design
The first thing we want to say about this mainboard is that it looks very premium and it is also very heavy when there are a lot of metal parts on the product.
You can see the design of the product must be said to be very raging, beautiful and very delicate thanks to the two tones black rough and matte gray. In the Z490 Aorus Xtreme, you can see only the PCIe slots, memory slots and CPU socket area are vacated, all the remaining space is covered by thin metal sheets. Yes, these are actually metal panels, which account for its massive weight (compared to the common weight of mobo products on the market). A new feature in the design of this version though there are still some glass panels but it no longer has sparkling chrome details.
And you also need to know that this mainboard will not have too much brilliant RGB lighting as in its predecessor. Instead, the only two areas with RGB lighting are the area just above the Z490 chipset and the protective covers of the I / O ports and the lighting on the two areas are not colorful, but instead is a layer. The light is very flattering, and there are no RGB lights on the bottom of the main anymore.
Intel's new LGA-1200 socket assembly, used for the 10th generation Core processors as well as the next generation. To meet the power-hungry needs of the new generation 10-core processors, the Z490 Aorus Xtreme is equipped with up to 16 power phases, the MosFETs are cooled by a newly designed radiator, no longer a The combination of thick aluminum plates and aluminum foil instead uses the Fin Array II fin design, which is linked by a Direct Touch II copper tube to increase the air exchange surface area.
Right above the VRM heatsink is a protective plate of I / O ports that extend to the entire audio circuit area with two symmetrical black and gray colors. The gray part makes the glass look beautiful. Notice the black area and you will see some small lines, these patterns along with the Falcon symbol illuminated by RGB light.
A mainstream platform, a generation of legacy architecture, the Z490 series in general and this mainboard in particular still support 2 channels of high-speed DDR4 memory. The four ram slots are not equipped with RGB light but are still wrapped in a metal frame around it.
Above the memory modules are power/reset switches and Debug LEDs, and there is also an OC_INGITION switch that supports overclocking.
On the Z490 Aorus Xtreme, all the power connectors, SATA fans and the expansion connectors with the front of the computer case are arranged horizontally and covered by a Nanocarbon panel, which covers cover the entire bottom and left edges of the mainboard.
Much of this mainboard's space is covered by Thermaltake Reactive Armor, which covers the cooling of both the 2nd and 3rd chipset and M.2 slots, and the first M.2 slot heatsink near the CPU separate from the rest. The surface design of this area is also simple with only two tones of black and gray. Along with the slogan "Dominate in Darkness", this is the style that Z490 Aorus Xtreme aims for in the 10th and 11th generation CPUs in the future.
All three M.2 memory cards will be cooling on both sides. 3 PCIe slots are still only protected by the metal frame. There is almost no residual detail on the surface, so even the BIOS switch and the F_Audio jack are equipped with a cover of the same color.
On the Z490 Aorus Xtreme is equipped with very advanced audio features, front and rear audio output will be handled by two Realtek ALC1220 chips with exclusive ESSential USB DAC and of course, high-end audio components. Currently, ESS ESS, Op-Amp and Wima capacitors are dedicated to audio.
The back I / O is equipped with enough play ports such as 1 2.5Gbps network port and 1Gbps network port, 2 Wi-Fi 6 antenna connections, 2 Intel Thunderbolt 3 connections, Type-C interface support Display resolution up to 5K @ 60Hz, 6 USB 3.2 Type-A ports, one of which supports Q-Flash Plus, in addition to gold-plated audio jacks, 2 buttons for BIOS.
Can not fail to mention the Nanocarbon case behind the PCB, this case comes in direct contact with the doubler controller through 2 thermal pads to support heat for these ICs.
where can you get a GIGABYTE Z490 AORUS XTREME online
GIGABYTE Z490 AORUS Xtreme (Intel LGA1200/Z490/E-ATX/3xM.2 Thermal Guard/SATA 6Gb/s/USB 3.2 Gen 2/Onboard AC WiFi 6/Dual Thunderbolt 3/Essential USB DAC/Gaming Motherboards): Buy it now
Macro board design:
Gigabyte Z490 Aorus Xtreme after removal of Thermal Reactive Armor.
The heatsink block for VRM uses a design consisting of aluminum foil commonly found on the heatsink for CPU and GPU and is called Fin-Array II. These two aluminum foil blocks are connected together through a copper tube and the copper tube will also contact to get heat directly from the MosFET through two LAIRD 7.5W / mk Thermal Pad pads. In addition, this VRM cluster also supports cooling for the 2.5Gbps Aquantia network controller.
And this is the most noticeable area of ​​the Z490 Aorus Xtreme mainboard, which guarantees the power and stability of the system running on the 10th generation Core i9 processors with up to 10 cores and 20 threads.
This VRM cluster with 16 power phases (doubler through 8 load balancers) is controlled by the Intersil ISL 69269 controller and the ISL99390 MosFETs with a peak current of up to 90Amp, the total of this VRM block provides pressure up to nearly 1, 5KA. There is also the powerful support of 10K black capacitors and Tantalum polymer capacitors with better ESR, ensuring a clean power source even at high frequencies.
In addition to 16 VRM phases for CPU, we also have 1 VRM phase for integrated IGP.
Close-up of the area of ​​switches and Debug lights on this product. Without using Intel network controller, Gigabyte equips its most advanced product with a professional 2.5Gbps network controller from Aquantia.
Realtek RTS5411E 4-port USB 3.0 expansion chip supports USB3.0 / 2.0
USB Type-C expands with the Realtek 5441E controller chip.
On the Z490 Aorus Xtreme, Gigabyte uses not one but two Realtek ALC1220-VB audio controllers that separate the dedicated front audio output for headphones and rear outputs. Support for these two controllers is two ESS Saber Hi-Fi DACs, dedicated Wima capacitors for audio.
---
gigabyte z490 aorus xtreme
build (lga 1200 ddr4 usb3 2 sata3) waterforce eatx lga motherboard e atx lga1200 i mainboard price preis review test wf (rev 1 0) e-atx amazon bios intel newegg in india specs vs asus rog maximus xii extreme master 10th gen wifi