The most common types of camcorders
Camcorders currently on the market have many diverse models and designs are quite rich, but according to the level of knowledge of Biareview, the camera will be divided into 3 common types:
Mini camcorders: Or travel pocket camcorders, a line of camcorders with compact design and super light weight of only about 100. One of the most typical product line is DJI Osmo Pocket.
Hand-held camcorders: A line of specialized camcorders that we still see in everyday life. Based on the purpose of using handheld camcorders are also divided into 2 categories are portable camcorders for personal use and professional camcorders for film production purposes.
Action Camcorder: Also known as Action Camera, the type of action camera used in backpacking trips to capture moments on the road. Action Camera also has a compact design and an effective waterproof surface.
Advice to buy the best handheld camcorder
A. Choose a device with sleek, compact design
Regardless of the camcorder series, the criteria of form, style, design are always on top. Consider a camera that is ergonomic and lightweight.
In general, if you want to use a camera like that, how to choose a compatible camcorder, for example, if you make travel Vlogs often have to move to record, you cannot choose a camera with a style too cumbersome.
B. Pay attention to the specifications of your camcorder
Image resolution, video quality: Surely all of us expect our camcorder to produce high-definition video, smooth picture quality, and multiple frame rates different to choose according to need.
If you are within your reach, choose camcorders with 4K resolution at around 60 frames per second.
Optical SteadyShot Technology: This is one of the features that are indispensable in the camcorder series, this feature will minimize camera shake and enhance stability. Especially when you are traveling on complex terrain.
CMOS or CCD image sensor: This unit is responsible for receiving and converting image signals into electronic signals. Because it is a decisive factor in image quality, it is imperative that you pay attention to this sensor.
There are two types of image sensors, CMOS and CCD, although the CMOS image sensor comes later, but with advanced advances in technology, effective performance, fast and low-power imaging amount that helped it surpass CCD.
Other parameters you may want to consider are whether the camcorder has a built-in audio microphone and a projector. The microphone captures sound during your journey, so connecting to the projector allows you to play video content on flat surfaces.
C. Battery life is not too low
Although many supported charging accessories are currently available, if the camcorder is equipped with a large battery capacity, allowing you to use continuously for many hours is better than a low-capacity machine, you spend a lot of time to charge.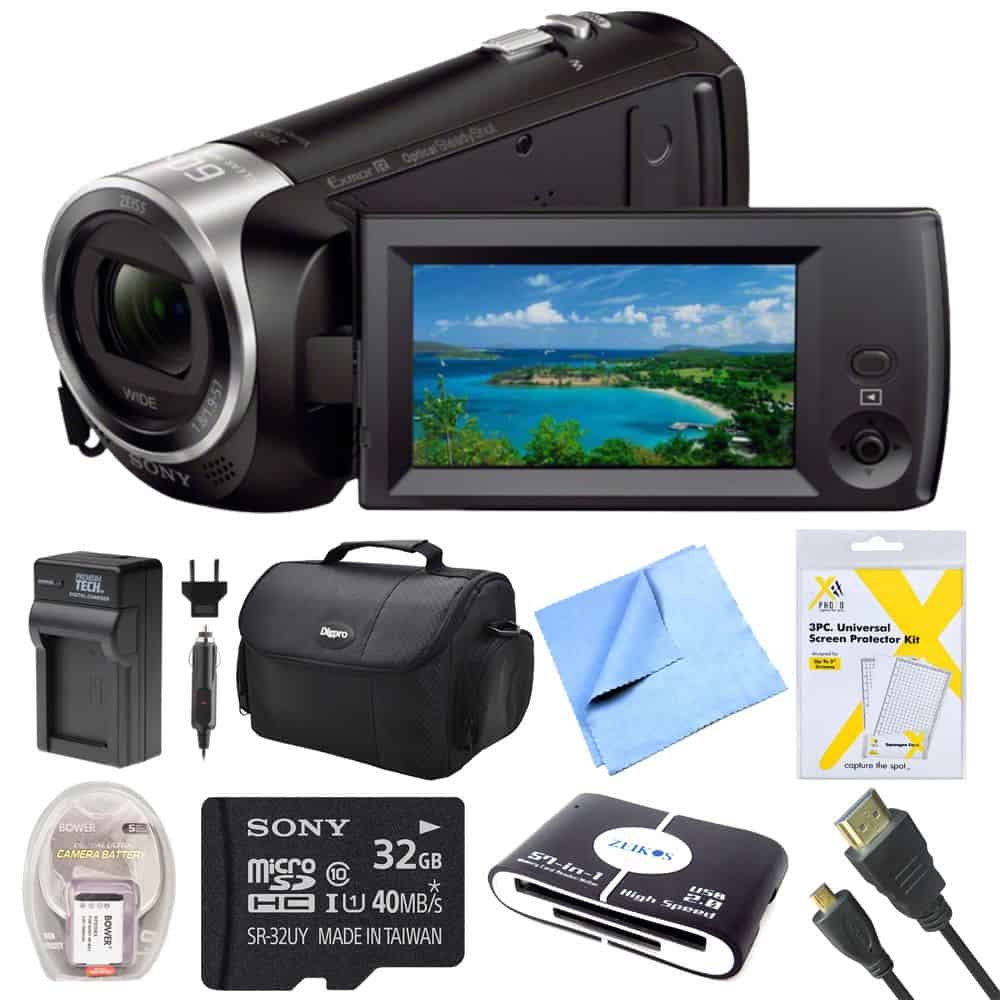 1. Sony CX405
If you are looking to buy a camcorder to capture life's memorable moments, the Sony CX405 is a suitable choice. Not only good quality products but also relatively affordable prices.
Equipped with the back-illuminated sensor system Exmor R CMOS 1 / 5.8 (3.1mm) will help to double the ability to handle light compared to the CMOS sensor system in conventional camcorders and produces High-definition images.
The BIONZ X image processor helps to reproduce more detailed and realistic images and videos while reducing image noise in some special areas. Included with the camera is a high-resolution ZEISS Vario-Tessar lens.
In addition, Sony's Balanced Optical SteadyShot ™ stabilization technology automatically detects and adjusts vibration to provide clear images, as well as ensuring that no movement is missed object.
Sony CX405E is a mid-range camcorder with Clear Image Zoom technology that can zoom up to 60 times with a recording speed of about 50Mbps in XAVC S format, to meet the needs of shooting objects at a distance far.
where can you get a Sony CX405 online
Sony – HDRCX405 HD Video Recording Handycam Camcorder (black): Buy it now
Sony HDR-CX405/B Handycam HD Camcorder w/ 32GB Deluxe Accessory Kit: Buy it now
2. Sony HDR-AS50R
Sony HDR-AS50R is one of the most notable action cameras, camcorders today. This Action Camera is loved by many folks with the ability to produce high quality images and 4K resolution footage.
The Live-View remote control system is designed like a waterproof smart watch, friendly screen interface, easy to observe and simple buttons; It allows you to control the setting mode and turn on / off the power remotely.
Time-lapse movie feature combined with Action Cam Movie Creator on PC or Action Cam Movie on Smartphone will be able to transform captured photos into an extremely impressive time-lapse movie with high resolution 4K resolution in full color.
As part of the action camera series, Sony's HDR-AS50R has a built-in microphone that can record audio and also eliminate outside noise. Feel free to change the frame and adjust the aiming according to your own preferences.
Optical SteadyShot ™ technology eliminates vibrations, enhances stability while minimizing image blur, especially when traveling on bumpy roads or at night, in low light.
Possesses 2 handy photography functions including LE motion picture and continuous shooting mode. Animation mode LE will be able to produce an image summarizing the movement of an object at different shutter speeds; Meanwhile, continuous shooting mode is capable of capturing up to 8 high-quality images.
Some other auxiliary features include overwrite function to capture every moment, Ustream allows you to share footage directly … In addition, with 3 indicator lights integrated on the front, top and back of the machine. It helps you to conveniently check the status of the machine from many different directions.
where can you get a Sony HDR-AS50R online
Sony Action Cam HDR-AS50R Wi-Fi HD Video Camera Camcorder & Remote + Finger Grip + Action Mounts + 64GB Card + Battery/Charger + Backpack + Tripod Kit: Buy it now
Sony HDRAS50R/B Full HD Action Cam + Live View Remote (Black): Buy it now
3. Sony HDR PJ675E
A high-end product line like Sony HDR PJ675E will satisfy professional filmmakers, youtuber can choose to make Vlog. This is a camera series that is rated well in both design and performance.
The Sony HDR PJ675E camcorder is light weight of only about 325g, the design is relatively compact and luxurious with black mainstream. Integrated 5.1 channel microphone for true 4 surround sound and comes with the ability to filter the voice of a person shooting.
Owning Sony G lens with a wide angle of 26.8mm capable of covering the entire scene; Supports XAVC S, AVCHD, MP4 formats and the BIONZ X image processor can record smooth motion with data transfer rates up to 50Mbp3 / Full.
Sony HDR PJ675E helps connect a camcorder to a 25lm projector (maximum screen size up to 100inch). It also allows you to project movies, the content of the camcorder to any surface without limitation.
Optical SteadyShot technology reduces camera shake and enhances stability due to the integration of 5-axis Intelligent Active mode. The Time-lapse recording feature makes it easy to take a series of continuous photos and stitch them together to create a Time-lapse movie.
Automatically identify and respond to focus quickly and accurately with Fast Intelligent AF. Simple, time-saving movie editing through the Highlight Movie Maker design tool.
where can you get a Sony HDR PJ675E online
4. Gopro Hero 7
Of course, it is impossible not to mention Gopro Hero 7, an advanced camera action version that has been improved and upgraded the most powerful of the Gopro brand. Outstanding with stable performance, effective against water at a depth of 10m.
But most important is the ability to support videos with sharp resolution up to Ultra HD 4K at 60 frames per second. In the case of still images Hero 7 can capture about 30 frames / sec with a maximum resolution of 12MP.
2.0 inch LCD touch screen display clear and full of parameters. Due to the additional Protune feature, you can freely access to customize the colors of images, videos according to personal preferences.
Especially with the anti-vibration technology, HyperSmooth is built by the manufacturer to replace the anti-vibration gimbal. HyperSmooth has the ability to automatically identify and adjust the vibration to bring sharp, professional videos even when traveling by motorbike or car.
In addition to smart face recognition, built-in GPS navigation and voice control or livestream; Gopro Hero 7 also supports Wi-Fi connection so that users can easily transfer all photos and videos recorded from the device to the smartphone for editing.
Some other useful features can not fail to mention such as time-lapse video recording feature TimeWarp; SuperPhoto smart image processing feature; or vertical shooting …
where can you get a Gopro Hero 7 online
GoPro HERO7 Silver + PNY Elite-X 32GB microSDHC Card Adapter-UHS-I, U3 – Waterproof Digital Action Camera with Touch Screen 4K HD Video 10MP Photos Live Streaming Stabilization: Buy it now
GoPro Hero 7 Black Edition with Two Extra GoPro USA Batteries + Sandisk Extreme 64GB MicroSD + Free Polaroid 16GB MicroSD (80GB Total): Buy it now
5. 4K Sony FDR-X3000R
Compared with most other camcorders Sony FDR-X3000R stands out with its dominant white color, sophisticated design. Not to mention the design of the device is capable of challenging all weather conditions due to the sturdy outer shell, ensuring shock, dust and waterproof protection effectively at a maximum depth of up to 60m.
The combination of the Exmor R CMOS image sensor and Bionz X processor will help reproduce details and bring true-to-life images, reducing noise. By connecting to wifi, you can use PlayMemories Mobile app on smartphones to control the mode of turning on / off the camera easily.
The camera is equipped with a ZEISS Tessar lens with a 33mm wide angle and high sharpness that is suitable for capturing majestic scenes such as slopes, mountain falls … Besides, the ability to zoom freely and the field of view can be adjust it as you like.
Basically, Sony FDR-X3000R is equipped with all the features commonly found in Sony camcorders such as 4K time-lapse video recording mode, Highlight Movie Maker application, face recognition feature, continuous shooting mode procedure, Time Code & User Bit editing function or overwrite feature.
The device has built-in GPS to help clearly and fully display parameters such as position, rotation speed … Some utilities come with the device such as the slot, USB connector and memory card slots: Memory Stick, Micro SD, SDHC, SDXC.
Built-in stereo microphone helps you capture the entire sound of the whole trip.
where can you get a Sony FDR-X3000R online
Sony FDRX3000/W Underwater Camcorder 4K, White: Buy it now
Sony FDRX3000R/W 4K HD Recording, Action Cam, Live View Underwater Camcorder, White: Buy it now
6. Sony HDR-PJ440E
The Sony HDR-PJ440E is a Handycam series of camcorders with a built-in 13-lumen projector, allowing you to freely project content saved in the camcorder such as images, video clips onto one any plane.
With Optical SteadyShot mechanical stabilization technology with Intelligent Active Mode, it automatically recognizes and adjusts camera shake to help stabilize image and video stabilization; Thereby you will not have to miss any meaningful moment in life.
In addition to autofocus optimization and color matching, the device is also equipped with facial recognition and smile detection mechanisms on the LCD screen. Through face recognition mechanism, the device will automatically remember the face of the subject.
The Exmor R CMOS image sensor enhances the sensitivity and the ability to process bright images more effectively even at night. Highlight Movie Maker features the task of editing many different photos into a slideshow movie.
Supports recording with fast recording speed of up to over 50Mbps in XAVC S format. The device comes with 2 memory card slots, Memory Stick Micro and Micro SD / SDHC, so it can be compatible with almost any device format memory card in the market.
where can you get a Sony HDR-PJ440E online
7. DJI Osmo Pocket
The DJI Osmo Pocket is one of the smallest ultraportable camcorders today, with a compact size not unlike a long body phone and an extremely light weight of only about 116g.
Osmo Pocket has really broken the design boundaries for a camcorder. With the body made from high-quality sandstone material, sweat-proof, slip-resistant and easy to hold.
Function buttons such as power button, capture / video button, status indicator, microphone, Micro SD card slot … have been arranged fully, easy to manipulate. The touch screen system gives you quick and precise touch / swipe experiences.
With a 12MP camera, Osmo Pocket is capable of recording videos with maximum resolution up to 4K / 60fps / 100Mbps. Universal Port multifunctional port allows you to connect with many devices such as smartphones or other accessories …
With many features and technologies integrated from basic to advanced levels such as ActiveTrack, Motionlapse, Panorama 3 × 3, NightShot, FPV Mode or Mimo application, it will make video editing more professional.
Low battery capacity is one of the biggest drawbacks of this product. The DJI Osmo Pocket is equipped with a LiPo 2S battery with a capacity of only 875mAh that meets the continuous use time of about 140 minutes.
Stable, quiet operation and long life due to the fanless cooling system, allowing the temperature to be evenly distributed.
where can you get a DJI Osmo Pocket online
DJI Osmo Pocket Handheld 3 Axis Gimbal Stabilizer with integrated Camera, Attachable to Smartphone, Android (USB-C), iPhone: Buy it now
DJI OSMO Pocket 3 Axis Gimbal Camera Elite Combo Bundle with ND & Rotating Polarizer Filter Set, Extension Rod/Selfie Stick, Tripod & Must Have Accessories: Buy it now
---
best handheld camcorders 2018 cvp shoulder mount for cheapest or video cameras sale inexpensive in walmart on prices top rated sony small who sells digital camcorder camera sports short filmmaking hunting youtube surveillance vlogging travel hd professional stabilizer with zoom 2019 4k k s cheap o pxw z100 xdcam compact