amazon Nikon Coolpix P900 reviews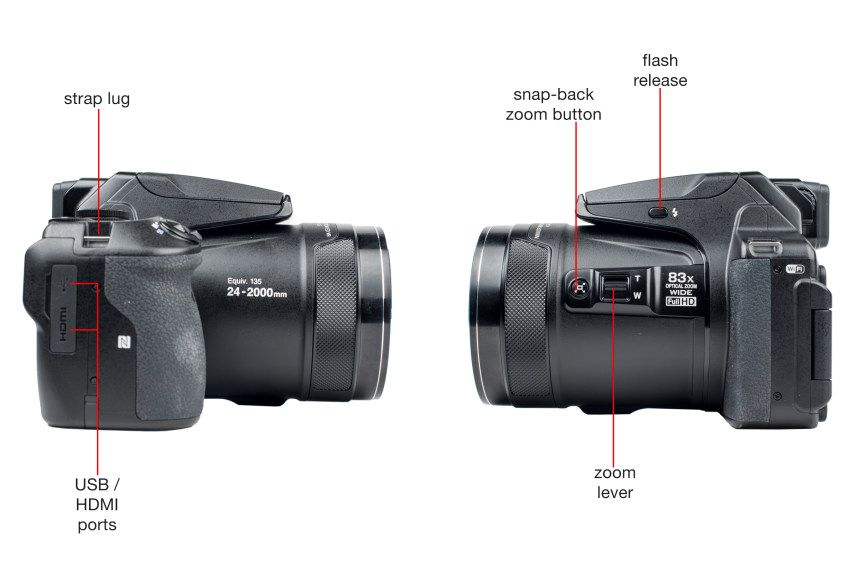 Nikon Coolpix P900 is Nikon's longest-zoomed camera with an optical zoom of 83x, far outperforming the predecessor's Nikon P600 with 60x zoom. For its direct competitors in the super-zoom line are the market such as Canon PowerShot SX60HS (65x) and Panasonic FZ70 (60x), Pentax XG-1 (52x), Olympus Stylus SP-100 IHS (50x) Fujifilm FinePix S1 (50x) … Nikon P900 is still in the top of the line, which also means that Nikon P900 is officially recognized as the camera has the most zoomed to date. This is the latest product that marks the breakthrough breakthrough far ahead of any other competitor in the market. At the same time, the Nikon super-zoom camera is actually anchoring Nikon's reputation in capturing the hearts of photographers.
The pinnacle of art
This 16 megapixel camera has an optical lens with a focal length equivalent to a 24-2,000mm tube, a 4 / 2.8 – 6.5 aperture. It has an ISO range of 100 to 1600 in automatic mode, extending up to 6,400 in PASM mode. In addition, the camera can zoom up to 166x digital zoom thanks to Dynamic Zoom technology.
Another advantage of this product is the built-in GPS capability, which allows more information about the location of the photo. The P900 also has Wi-Fi connectivity for downloading or controlling activity via iOS or Android apps. NFC is also available to connect to some Android devices. It is capable of recording Full HD video at 60 frames per second.
The camera's Nikkor lenses use ultra-low-scatter materials, which allow for crisp, sharp images or video at unbelievable distances, according to Nikon. In addition, it uses the Dual Detect Optical VR technology to compensate for camera shake, which is important for long-distance focus.
The P900 is capable of shooting 7 frames per second in continuous shooting mode. The screen is 3 inches in size, EVF electronic viewfinder. Like the DSLR, the P900 has plenty of rotating and adjustable buttons, including a full manual exposure mode. For general users, the camera offers a variety of effects, including time-lapse capture mode. The camera's battery can take 360 shots, or 1 hour and 20 minutes of continuous shooting.
where can you get a Nikon Coolpix P900 online
Nikon COOLPIX P900 Digital Camera with 83x Optical Zoom and Built-In Wi-Fi(Black): Buy it now
Nikon COOLPIX P900 Digital Camera 83x Optical Zoom, Built-In Wi-Fi, NFC, and GPS + Digital Camera Flash +Backup Battery + 2 Of 32GB Class 10 Memory Card + 67mm UV Protection Filter: Buy it now
Nikon COOLPIX P900 16MP 83x Super Zoom 4k Wi-Fi GPS Digital Camera + 64GB Memory & Accessory Bundle: Buy it now
Nikon Coolpix P900 Wi-Fi 83x Zoom Digital Camera + 64GB Card + Battery & Charger + 3 Filters + Case + Tripod Kit (Certified Refurbished): Buy it now
Nikon COOLPIX P900 Digital Camera with 83x Optical Zoom and Built-In Wi-Fi(Black) International Version (No warranty): Buy it now
Nikon superzoom camera: marvelous era
The latest Nikon superzoom now lets users capture real-life photos or movies with incredible vibrancy. That must be the investment and thought seriously from the manufacturer Nikon to conquer customers.
Extremely Shaky Anti-Vibration: Anti-blur features have been significantly improved with dual-detector optical vibration. The high-sensitivity anti-shake function ensures clear shots when taking pictures while on the move and reduces camera shake, especially when using the P900's super-zoom features. By enabling the equivalent shooting mode, shooting at a faster 5.0 * 4 aperture. Highly accurate anti-shake performance improvements, using angular velocity sensors and image sensors in a double-acting mode to detect and calculate the intensity and frequency of vibration. This is the best feature for this product line to bring beautiful photo frames.
High-end shooting customization: To capture exactly one shot, the camera needs to respond quickly. The P900 delivers this capability with near 0.10 second wide-angle AF and 0.74 second telephoto shots, perfect for capturing fast-paced moments in sports. or take pictures of the wild nature. This capability comes with a shutter lag of about 0.12 * 5 at wide angle and 0.75 * 6 at telephoto shooting. When shooting subjects that are moving, the P900 manages multiple continuous shooting modes like Continuous H, giving the largest image size of about 7 fps (up to 7 frames) and Continuous L at 2 fps (up to 200 frames).
Capture every moment of life: This super-zoom camera not only has the image zoom, but now it has the ability to adapt to each action taken. If the subject temporarily moves out of the picture when taking a picture remotely, the photographer can easily translate the zoom position to the wide-angle by quickly pressing the zoom button again, while the zoom lever for but still reduces the impact of camera shake to the lowest level, allowing for stable video recording and non-blur-free shooting. In addition, the unit integrates moonlight and bird, allowing for simple focus and setup for capturing the best shots of these challenging objects, as well as helping end users.
---
about us iphone infrared much connection 重さ sx60hs 価格 tas 口コミ ケース 缺点 作例 三脚 説明書 rx100 タイムラプス 充电器 中古 月 使い方 beach 添加比較 取扱説明書 navodila ニコン 値段 評価 飛行機 比較 評價 開箱 比较 星空 mars 野鳥 野球 ヤフオク ヨドバシ 夜拍 楽天 レビュー 連写 レンズ レンタル 画質 バッテリー – ニコン(nikon) デジタルカメラ mp & 1080p